AD
Consider an Online Program Currently Accepting Applicants
Alabama BSN in Nursing School Highlights
Schools with RN-BSN Programs
There are 14 nursing schools in Alabama with CCNE or ACEN accredited RN to BSN / BSN programs.
Average Enrollment
Alabama universities average enrollment is 10,116 students (larger than the national average).
City Availability
There are 13 total cities in Alabama with nursing schools offering CCNE or ACEN-accredited Bachelor's in Nursing degrees.

AD
Consider an Online Program Currently Accepting Applicants
There are 14 universities in our database with accredited RN to BSN programs in Alabama. There are a number of different cities offering the degree - in large cities and rural areas. The outlook for a Registered Nurse in Alabama is decent, but on average, RN's in Alabama make less than the national average. According to ONET Online, Alabama RN's make between $40,930 and $75,130, compared to $45,880-$98,880 nationally. These are just average annual salaries for RN's, and of course any individual's situation can vary.

Alabama Nursing Licensure Reciprocity
The Nurse Licensure Compact (NLC) allows nurses to have one license for nursing that gives them the ability to practice in the state where they current live as well as other states that are part of the compact agreement. Currently there are over 30 states that are a part of the NLC agreement.
As of Spring 2020: Alabama is not currently a part of the NLC agreement.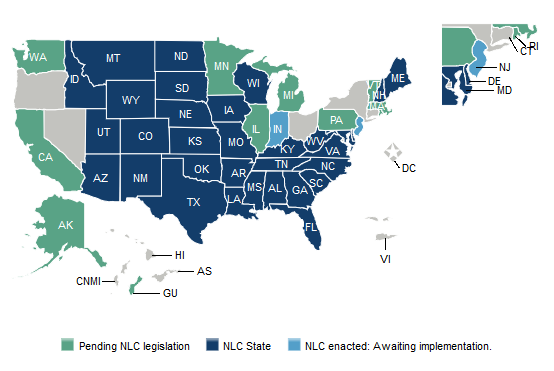 Source: National Council of State Boards of Nursing
Below is the outlook and expected employment for registered nurses in Alabama compared to the national average. Alabama is basically right in line with the national average, where it is expected to see 19% growth in RN positions by 2022. Keep in mind that with the recommendation that all Registered Nurses should have their BSN (by the CCNE), it would be advisable to consider getting your RN to BSN degree now if you already have an ADN or similar degree.
Sources:
Studying for the BSN in Alabama
The state of Alabama provides an inviting atmosphere for people of all walks of life. The medical field in this state is on the rise, providing careers to large numbers of professionals throughout the state. For individuals wanting to pursue a better career option overall, RN to BSN programs in this state are readily available.
As a nursing professional, individuals will find that hard-working, caring, and dedicated are just a few of the traits needed for success. Employers want applicants that are willing to go the extra mile to guarantee their worth throughout an organization. Nurses are responsible for the care of patients in need all over the state. For those interested in getting ahead of others in the field of nursing, a better degree may be the answer.
Improving Your Experience for Employers in Healthcare
Since most nurses hold associate's degrees or lower, bachelor's degree programs are a great way to prove experience to potential employers. Most employers have changed their standards for higher due to the evolution of the medical field, making a higher degree a need for current registered nurses.
In order to be accepted into new positions by different companies, some nurses are being forced to get back into a degree program. RN to BSN degree programs in Alabama provide exactly what learners need to gain entry into higher positions and provide better for their families. These programs can be completed in 1-2 years on average and provide everything a nurse needs to be the most qualified professional a job in nearly every medical setting.
List of RN to BSN Programs in Alabama
Below you will find a comprehensive list of all RN to BSN programs that are either accredited by the CCNE or ACEN. We strive to keep our directory as up to date as possible, and it only contains BSN programs. It is a hand edited and maintained directory, so it can take some time to keep up-to-date. Be sure to contact us if you have any additions to our database of programs.
List of BSN Programs
All Bachelor of Science in Nursing Programs
Auburn University
Auburn University
RN to BSN -

School of Nursing
Auburn University Montgomery
Montgomery
RN to BSN -

School of Nursing
Jacksonville State University
Jacksonville
RN to BSN -

Lurleen B. Wallace College of Nursing
Oakwood University
Huntsville
RN to BSN -

Department of Nursing
Samford University
Birmingham
RN to BSN -

Ida V. Moffett School of Nursing
Spring Hill College
Mobile
RN to BSN -

Division of Nursing
Troy University
Troy
RN to BSN -

College of Health and Human Services, School of Nursing
Tuskegee University
Tuskegee
RN to BSN -

Department of Nursing
University of Alabama at Birmingham
Birmingham
RN to BSN -

School of Nursing
University of Alabama in Huntsville
Huntsville
University of Mobile
Mobile
RN to BSN -

School of Nursing
University of North Alabama
Florence
RN to BSN -

College of Nursing and Allied Health
University of South Alabama
Mobile
RN to BSN -

College of Nursing