Working as a Nurse in New Jersey
Nurses are needed in a variety of different professional settings. Nurses are sought out in schools, hospitals, private practices, and even some scientific facilities.
New Jersey's population is close to 9 million, so the need for great nurses is growing with it. The educational requirements for becoming a nurse throughout the country has changed in recent years, causing employers to require a bachelor's degree education at a minimum for new hires.
This can be an intimidating factor for nurses that are already working in the field. Most registered nurses working in the field only obtained associate's degree. In response to the changes that employers have placed on nursing applicants, RN to BSN programs have been implemented to accommodate for what they need. There is truly no better option for nurses wanting to get the most out of their degree.

State Licensure Reciprocity
The Nurse Licensure Compact (NLC) allows nurses to have one license for nursing that gives them the ability to practice in the state where they current live as well as other states that are part of the compact agreement. Currently there are 25 states that are a part of the NLC agreement.
New Jersey IS NOT a part of the NLC compact agreement, meaning a New Jersey license for nursing will not be applicable any other state
. In the map image below, you can view all of the other states that have the license reciprocity agreement in place, but in New Jersey, your RN license will only be good in New Jersey.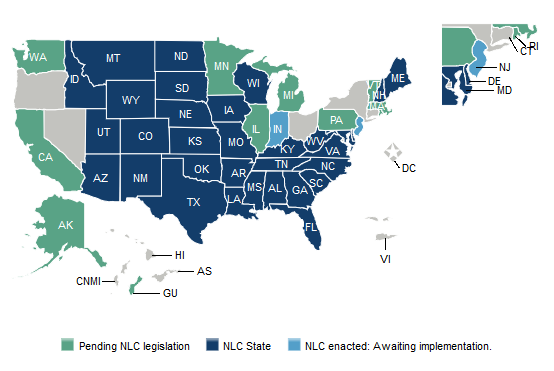 Source: National Council of State Boards of Nursing
---
Nearby States & New Jersey Nursing Resources