AD
Consider an Online Program Currently Accepting Applicants
New Jersey BSN in Nursing School Highlights
Schools with RN-BSN Programs
There are 19 nursing schools in New Jersey with CCNE or ACEN accredited RN to BSN / BSN programs.
Average Enrollment
New Jersey universities average enrollment is 5,460 students (national average is around 8,000).
City Availability
There are 10 different cities in New Jersey with nursing schools offering CCNE or ACEN-accredited Bachelor's in Nursing degrees.

AD
Consider an Online Program Currently Accepting Applicants
In the state of New Jersey, professionals are given the opportunity to pursue employment in large medical facilities or small private practices. There are unlimited possibilities for dedicated professionals in this area. Those working in the healthcare field in New Jersey tend to be highly satisfied with what the healthcare field has to offer – both financially and personally.
19 nursing schools in New Jersey with CCNE or ACEN accredited BSN programs
In the nursing field, the importance of job stability has become a main concern for these professionals throughout the state of New Jersey and nationally as well. As a registered nurse working in the state, professionals should find a wide range of job availability within the healthcare field.

New Jersey Nursing Licensure Reciprocity
The Nurse Licensure Compact (NLC) allows nurses to have one license for nursing that gives them the ability to practice in the state where they current live as well as other states that are part of the compact agreement. Currently there are over 30 states that are a part of the NLC agreement.
As of Spring 2020: New Jersey has enacted legislation to be part of the NLC but as of spring 2020 it is still waiting to fully implement.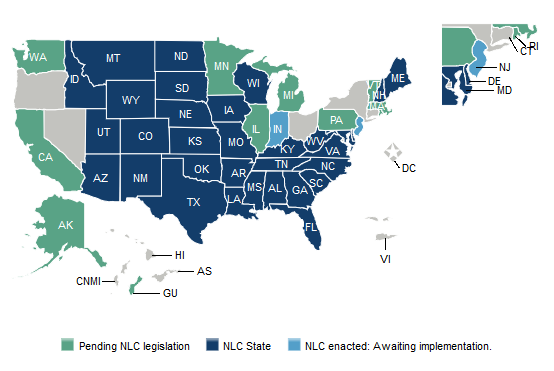 Source: National Council of State Boards of Nursing
Working as a Nurse in New Jersey
Nurses are needed in a variety of different professional settings. Nurses are sought out in schools, hospitals, private practices, and even some scientific facilities.
New Jersey's population is close to 9 million, so the need for great nurses is growing with it. The educational requirements for becoming a nurse throughout the country has changed in recent years, causing employers to require a bachelor's degree education at a minimum for new hires.
This can be an intimidating factor for nurses that are already working in the field. Most registered nurses working in the field only obtained associate's degree. In response to the changes that employers have placed on nursing applicants, RN to BSN programs have been implemented to accommodate for what they need. There is truly no better option for nurses wanting to get the most out of their degree.
Nearby States & New Jersey Nursing Resources
List of BSN Programs
All Bachelor of Science in Nursing Programs
Bloomfield College
Bloomfield
RN to BSN -

Frances M. McLaughlin Division of Nursing
Caldwell University
RN to BSN -

Nursing Program

RN to BSN
College of Saint Elizabeth
Fairleigh Dickinson University
RN to BSN -

Henry P. Becton School of Nursing & Allied Health
Felician College
Lodi
RN to BSN -

Division of Nursing and Health Management
Georgian Court University
Lakewood
RN to BSN -

Georgian Court-Meridian Health School of Nursing
Monmouth University
West Long Branch
RN to BSN -

Marjorie K. Unterberg School of Nursing and Health Studies
New Jersey City University
Ramapo College of New Jersey
Rider University
Lawrenceville
RN to BSN -

RN-BSN Program
Rowan University
Glassboro
RN to BSN -

Nursing Program
Rutgers State University of New Jersey-Camden
Saint Peter's University
Jersey City
RN to BSN -

School of Nursing
Seton Hall University
South Orange
RN to BSN -

College of Nursing
Stockton University
RN to BSN -

Nursing Program
Thomas Edison State College
Trenton
RN to BSN -

W. Cary Edwards School of Nursing
William Paterson University of New Jersey
Wayne
RN to BSN -

Department of Nursing