Why RN's Are Getting Their BSN in Illinois
Up until recently, nurses could become registered and begin working with as little as an associate's degree. Currently, a Bachelor's degree in Nursing is preferred by employers.
RN to BSN programs in Illinois include a more in depth look into the field of nursing. Without courses that are focused on a wider frame, this educational program provides extensive knowledge for nursing professionals within. Nurses are taught about communicable diseases, communication, and even management while in these programs.
These additions to the program broaden nurses' views on their patients and their state as a whole. There are numerous programs throughout the state of Illinois that are ready and willing to assist current RNs on their path to a better career.

View RN-BSN Programs Accepting Applicants
State Licensure Reciprocity
The Nurse Licensure Compact (NLC) allows nurses to have one license for nursing that gives them the ability to practice in the state where they current live as well as other states that are part of the compact agreement. Currently there are 25 states that are a part of the NLC agreement.
Illinois' application to become part of the NLC agreement is pending
. This means that the RN licensure in the state are under review to potentially become part of the NLC.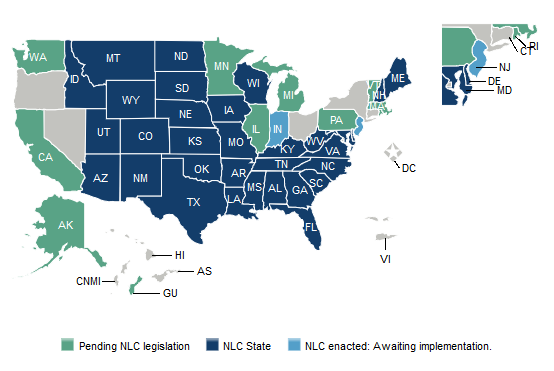 Source: National Council of State Boards of Nursing
---
View RN-BSN Programs Accepting Applicants