AD
Consider an Online Program Currently Accepting Applicants
Indiana BSN in Nursing School Highlights
Schools with RN-BSN Programs
There are 29 nursing schools in Indiana with CCNE or ACEN accredited RN to BSN / BSN programs.
Average Enrollment
Indiana universities average enrollment is 6,697 students (smaller than the national average).
City Availability
There are 8 different cities in Indiana with nursing schools offering CCNE or ACEN-accredited Bachelor's in Nursing degrees.

AD
Consider an Online Program Currently Accepting Applicants
The state of Indiana is an excellent choice for individuals interested in the healthcare field. With a large variety of accredited universities, it is also a great choice for professionals looking to further their education. The country as it stands relies heavily on qualified professionals in healthcare settings. For nurses, Indiana has a high demand for well-rounded professionals. Nurses in Indiana provide care to patients in a variety of different settings, and Registered nurses that are interested in furthering their degree program are happy to discover that Indiana provides a wealth of information about pursuing this achievement.
29 nursing schools in Indiana with ACEN or CCNE accredited RN to BSN programs
In order to get started on the path to success, students should weigh their options and choose the right university within Indiana's diverse options as well as online.

Indiana Nursing Licensure Reciprocity
The Nurse Licensure Compact (NLC) allows nurses to have one license for nursing that gives them the ability to practice in the state where they current live as well as other states that are part of the compact agreement. Currently there are over 30 states that are a part of the NLC agreement.
As of Spring 2020: Indiana has the NLC enacted, but is awaiting implementation of the reciprocity guidance.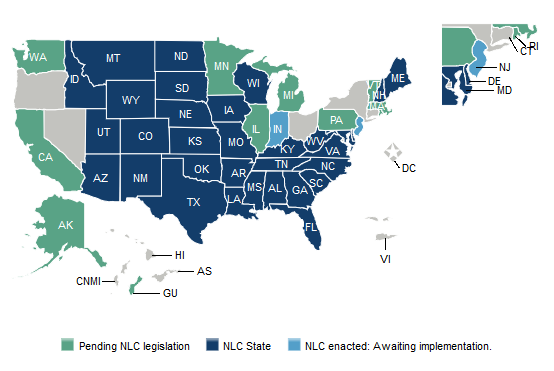 Source: National Council of State Boards of Nursing
Why Get Your RN-BSN?
In order to obtain this type of preferred status, more nurses are finding it necessary to promote their current associate's degrees to bachelor's level. RN to BSN programs throughout the state given nurses the competitive edge they need to be the most qualified for great positions in the healthcare field.
Students are drawn to this field due to its shorter length for degree completion and its versatility. Nurses can work in hospitals, schools, or even private settings after completion of the appropriate degree program.
Professional nurses have the ability to work with a variety of different patients, from newborns to the elderly.
List of BSN Programs
All Bachelor of Science in Nursing Programs
Anderson University - IN
RN to BSN -

School of Nursing
Ball State University
Muncie
RN to BSN -

School of Nursing

RN to BSN
Eastern Kentucky University
Florida International University
Goshen College
Goshen
RN to BSN -

Department of Nursing
Harrison College
RN to BSN -

Nursing Program
Huntington University
Huntington
RN to BSN -

Department of Nursing
Indiana University - Purdue University Columbus
Indiana University - Purdue University Fort Wayne
Indiana University - Purdue University Indianapolis
Indiana University Kokomo
RN to BSN -

School of Nursing
Indiana University Northwest
Indiana University of Pennsylvania
RN to BSN -

Department of Nursing and Allied Health Professions
Indiana University Souast
RN to BSN -

School of Nursing
Indiana University South Bend
RN to BSN -

School of Nursing

RN to BSN
Indiana University-Purdue University Indianapolis
RN to BSN -

School of Nursing
Indiana Wesleyan University - Online
Marion
Indiana Wesleyan University
Marion
RN to BSN -

School of Nursing
Jacksonville University School of Nursing
Marian University
Indianapolis
RN to BSN -

School of Nursing
Notre Dame College Online
Purdue University
RN to BSN -

School of Nursing
Purdue University Calumet
Purdue University North Central
Saint Joseph's College IN
RN to BSN -

Division of Nursing
Saint Mary's College-Indiana
RN to BSN -

Department of Nursing
Sinclair School of Nursing-University of Missiouri
South Dakota State University
SUNY-Delhi School of Nursing
Texas Tech University Health Sciences Center
University of Central Florida
University of Illinois-Chicago School of Nursing
University of Indianapolis
Indianapolis
RN to BSN -

School of Nursing
University of Michigan-Flint
University of Saint Francis
RN to BSN -

School of Health Sciences
University of South Alabama
University of Southern Indiana
Evansville
RN to BSN -

College of Nursing & Health Professions

RN to BSN
University of Wisconsin-Milwaukee
Valparaiso University
Valparaiso
RN to BSN -

College of Nursing and Health Professions
Villanova College of Nursing
Washington State University
Western Carolina University
Western Illinois University
Western Kentucky University