+ Jump to List of RN to BSN Programs
Why Get Your RN-BSN?
In order to obtain this type of preferred status, more nurses are finding it necessary to promote their current associate's degrees to bachelor's level. RN to BSN programs throughout the state given nurses the competitive edge they need to be the most qualified for great positions in the healthcare field.
Students are drawn to this field due to its shorter length for degree completion and its versatility. Nurses can work in hospitals, schools, or even private settings after completion of the appropriate degree program.

Professional nurses have the ability to work with a variety of different patients, from newborns to the elderly.
View RN-BSN Programs Accepting Applicants
State Licensure Reciprocity
The Nurse Licensure Compact (NLC) allows nurses to have one license for nursing that gives them the ability to practice in the state where they current live as well as other states that are part of the compact agreement. Currently there are 25 states that are a part of the NLC agreement.
Indiana is not part of the NLC agreement
.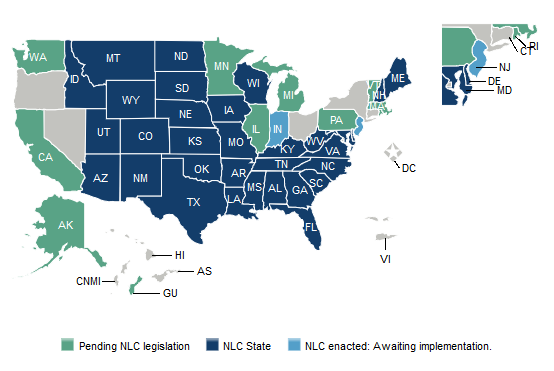 Source: National Council of State Boards of Nursing
---
View RN-BSN Programs Accepting Applicants