Why Consider a BSN?
A further education does more than just provide more knowledge, but it also provides better experience that will contribute to better community and patient health. The very focus of nursing is the care of people in general. With a higher education, nurses can ensure that each patient is getting the very best care for their money.
A higher degree in nursing contributes to a better life with a better financial future. A college degree is something that is irreplaceable, even with years of experience. There is no substitute for a great degree. Being the most qualified nurse will ensure that professionals are never at a lack of opportunity. This can be achieved by enrolling in one of Arkansas' excellent RN to BSN programs. Nurses that take the next step to a profitable career will be met with open arms by employers throughout the diverse medical field.
Arkansas Board of Nursing
The Arkansas State Board of Nursing was established by the Arkansas Legislature over 100+ years ago, in 1913, to protect the life and health of its citizens by holding all nurses and nursing care professionals to a high standard, as well as regulate and approve nursing schools in the state of Arkansas. The ASBN has strict regulations for Registered Nurses, including the requirement to be an Arkansas resident with at least 5 years of experience as a registered nurse in nursing practice, administration, or teaching.

State Licensure Reciprocity
The Nurse Licensure Compact (NLC) allows nurses to have one license for nursing that gives them the ability to practice in the state where they current live as well as other states that are part of the compact agreement. Currently there are 25 states that are a part of the NLC agreement.
Arkansas is a part of the NLC agreement
.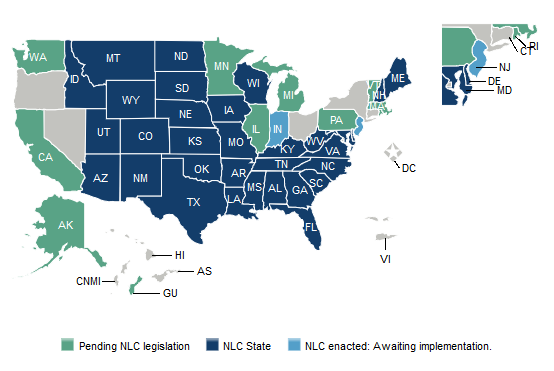 Source: National Council of State Boards of Nursing
---
Sources: