AD
Consider an Online Program Currently Accepting Applicants
Hawaii BSN in Nursing School Highlights
Schools with RN-BSN Programs
Despite its small size, there are 4 nursing schools in Hawaii with CCNE or ACEN accredited RN to BSN / BSN programs.
Average Enrollment
Hawaii universities average enrollment is 10,383 students (larger than the national average).
City Availability
There are only two different cities in Hawaii with nursing schools offering CCNE or ACEN-accredited Bachelor's in Nursing degrees. Honolulu is host to three of the universities.

AD
Consider an Online Program Currently Accepting Applicants
Working in the healthcare field can be satisfying for any dedicated professional. For nurses, working in this field provides a career for a lifetime. The use of technology in recent years has changed the way that many healthcare providers conduct everyday business. With the increase in new techniques due to technology, more people are becoming interested in the field of nursing as a profession. Caring for people is the general concern for nurses. Without nurses, it would be nearly impossible for hospitals to take care of the large numbers of incoming patients each day. Nurses have a large variety of responsibilities in a healthcare setting, making continuing education a must-have for success.

Hawaii Nursing Licensure Reciprocity
The Nurse Licensure Compact (NLC) allows nurses to have one license for nursing that gives them the ability to practice in the state where they current live as well as other states that are part of the compact agreement. Currently there are over 30 states that are a part of the NLC agreement.
As of Spring 2020: Hawaii is not currently a part of the NLC agreement.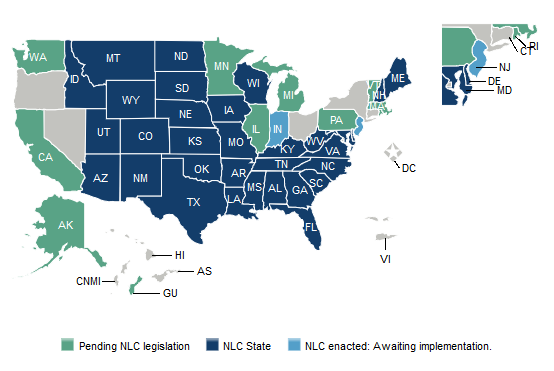 Source: National Council of State Boards of Nursing
The Nursing Landscape for BSNs in Hawaii
For nurses working in the tropical state of Hawaii, promoting associate's level nursing degree to a higher level may be the best way to get the most out of a lifelong career.
RN to BSN programs are specifically for those that are already have a degree in nursing. The program combines the different aspect of nursing with subjects including community healthcare and administration.
These additional concepts create a perfect storm of information for nurses wanting to have a great variety of knowledge in their field. With Hawaii's population getting bigger each year, the need for nurses will continue to grow. Promoting a lower level degree to bachelor's level will prove to be an excellent decision to nurses currently working in the state of Hawaii.
List of BSN Programs
All Bachelor of Science in Nursing Programs
Chaminade University of Honolulu
Honolulu
RN to BSN -

School of Nursing
Hawaii Pacific University
Honolulu
RN to BSN -

College of Nursing and Health Sciences
University of Hawaii at Hilo
University of Hawaii at Manoa
Honolulu
RN to BSN -

School of Nursing and Dental Hygiene