The Nursing Landscape for BSNs in Hawaii
For nurses working in the tropical state of Hawaii, promoting associate's level nursing degree to a higher level may be the best way to get the most out of a lifelong career.
RN to BSN programs are specifically for those that are already have a degree in nursing. The program combines the different aspect of nursing with subjects including community healthcare and administration.
These additional concepts create a perfect storm of information for nurses wanting to have a great variety of knowledge in their field. With Hawaii's population getting bigger each year, the need for nurses will continue to grow. Promoting a lower level degree to bachelor's level will prove to be an excellent decision to nurses currently working in the state of Hawaii.

View RN-BSN Programs Accepting Applicants
---
State Licensure Reciprocity
The Nurse Licensure Compact (NLC) allows nurses to have one license for nursing that gives them the ability to practice in the state where they current live as well as other states that are part of the compact agreement. Currently there are 25 states that are a part of the NLC agreement.
Hawaii is not currently a part of the NLC agreement
.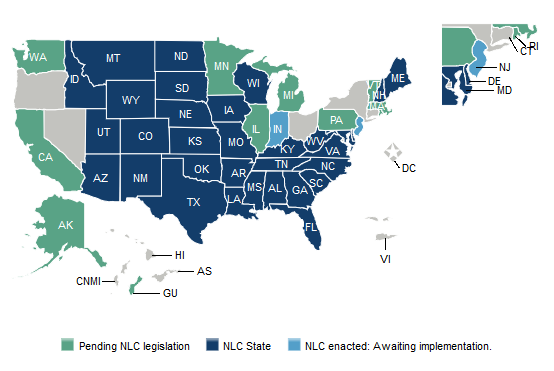 Source: National Council of State Boards of Nursing
---
View RN-BSN Programs Accepting Applicants
---