AD
Consider an Online Program Currently Accepting Applicants
Ohio BSN in Nursing School Highlights
Schools with RN-BSN Programs
There are 41 nursing schools in Ohio with CCNE or ACEN accredited RN to BSN / BSN programs.
Average Enrollment
Ohio universities average enrollment is 5,928 students (national average is around 8,000). Miami University of Ohio is one of the largest, with over 57,000 reported student enrollment. The University of Toledo (22,000+), Cleveland State University (15,000+), and the University of Cincinnati (14,700+) all boast enrollment numbers in the 5-figures. Many of the universities in Ohio are in the low-to-mid thousands, averaging around 4,000 students enrolled for the median. There are much smaller universities on the other end of the spectrum, with Christ College of Nursing and Health Sciences, Mercy College of Ohio, Mount Carmel College of Nursing, and Wright State University all having enrollment numbers reported under 1,000 students. This can be helpful, however, for students looking for a more hands-on experience with their professors. The School of Nursing at Ohio University RN to BSN is one of the more renowned RN to BSN programs, and is also offered as an Online RN to BSN program. With over 2,400 students and a CCNE accredited nursing school, Ohio University is a public university in Athens, Ohio that has numerous healthcare offerings, as well as online nursing programs.
City Availability
There are 22 different cities in Ohio with nursing schools offering CCNE or ACEN-accredited Bachelor's in Nursing degrees. Cleveland and Columbus have the most schools, but there are many other options in suburbs or rural areas.

AD
Consider an Online Program Currently Accepting Applicants
41 nursing schools in Ohio with CCNE or ACEN accredited RN to BSN programs
There are no two universities that provide the same options and outlooks for students wanting a flexible path. Research is key to finding a university that is fitting for what an individual requires. As a busy nurse, course scheduling is an important aspect to starting a degree program. Since nurses have some of the most unpredictable schedules in the healthcare field, courses should be scheduled accordingly. Students are able to take courses at various times throughout the day and sometimes at night.
Online RN to BSN Programs in Ohio
Online RN to BSN programs are also available, which is a great option for nurses with less time for courses. The service that nurses provide are important to the public, so it is important that professionals in the field take every step to being the best at what they do.

Ohio Nursing Licensure Reciprocity
The Nurse Licensure Compact (NLC) allows nurses to have one license for nursing that gives them the ability to practice in the state where they current live as well as other states that are part of the compact agreement. Currently there are over 30 states that are a part of the NLC agreement.
As of Spring 2020: Ohio is NOT a part of the NLC agreement. This means that the RN licensure in Ohio will only be valid in Ohio.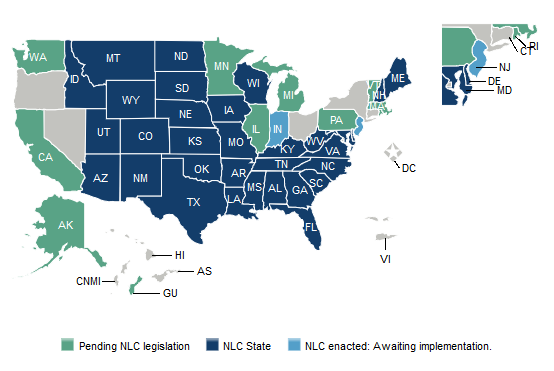 Source: National Council of State Boards of Nursing
What is an RN to BSN?
During the RN to BSN programs, students could be reminded about the basic aspects of nursing, but typically mainly focus on new ideas. Since applicants to this program are expected to hold at least an associate's degree, they are expected to have a general understanding upon entry into the program.
Generally speaking, the RN to BSN program geared around creating more well-rounded nurses that are suitable for various positions in the healthcare field. Students in the RN to BSN programs can take courses related to communication, business, and research. Choosing to pursue a higher degree in nursing is the best decision that a nurse can make. The RN to BSN is a higher degree that could open doors in higher positions and change the way that nurses view their jobs overall.
Working as a Nurse with a BSN
The healthcare field experiences a high volume of turnover. For dedicated nurses, the availability of new positions in hospitals and private practices is higher than ever.
In nursing, the need for professionals with bachelor's degrees is on the rise, with a large number of professionals still holding lower level degrees. Nurses are needed in many different fields. Field that deal directly with public health or general health are in need of qualified nurses to fill their positions.
Where Can You Work with a BSN?
Nurses either work in fields that apply specifically to nursing, or to other related healthcare fields. Regardless of which path is chosen by professionals, having a higher degree could pay off greatly. Having a higher degree in nursing allows professionals to provide potential employers with proof of dedication to the field of nursing.
Nursing is one of the most preferred degree choices for college students, graduating large number of new nurses each year. Nurses currently in the field may feel intimidated by the increase in the number of registered nurses, making a higher degree the best option to prove better qualifications.
Why a Bachelor's in Nursing Degree?
A bachelor's degree holder is more often considered for positions in management and other higher tier positions within a healthcare facility. Since the coursework for these programs includes many different aspects of business and employee management, graduates are a great fit for many settings.
Employers want bachelor's degree holders to fill their positions. Bachelor's level graduates work in typical nursing positions as well as specialty services. Without higher education in nursing, it would be difficult to ensure that the most recent trends in nursing are being implemented effectively. It does not matter which professional path a graduate takes upon completing an RN to BSN program. Having more education could pay off regardless.
Ohio Nursing Standards
In response to the changing educational nursing standards, the state of Ohio has provided excellent RN to BSN programs to assist nurses with pursuing better opportunities for their futures. Even minute of hard work that goes into pursuing a higher degree could pay off well at the end of the journey. RN to BSN programs are the solution to nurses' worries about a stable financial future.
List of BSN Programs
All Bachelor of Science in Nursing Programs
Ashland University
Ashland
RN to BSN -

Dwight Schar College of Nursing and Health Sciences

RN to BSN
Baldwin Wallace University
Berea
RN to BSN -

Nursing Program
Bowling Green State University(Affiliated with University of Toledo Consortium)
RN to BSN -

College of Nursing
Capital University
Columbus
RN to BSN -

School of Nursing
Case Western Reserve University
Cedarville University
Cedarville
RN to BSN -

School of Nursing
Christ College of Nursing and Health Sciences
Cleveland State University
RN to BSN -

OH | Online

RN to BSN -

School of Nursing
Defiance College
Defiance
RN to BSN -

Nursing Department
Franciscan University of Steubenville
Franklin University
Columbus
RN to BSN -

College of Health and Public Administration
Good Samaritan College of Nursing and Health Science
Hiram College
Hiram
RN to BSN -

Department of Nursing
Hondros College
Westerville
RN to BSN -

School of Nursing
Kent State University
RN to BSN -

College of Nursing
Lourdes University
Sylvania
RN to BSN -

College of Nursing
Malone University
Canton
RN to BSN -

School of Nursing & Health Sciences
Mercy College of Ohio
Toledo
RN to BSN -

Mercy St. Vincent School of Nursing
Miami University
RN to BSN -

Department of Nursing
Mount Carmel College of Nursing
Columbus
Mount St. Joseph University
RN to BSN -

Department of Health Sciences
Mount Vernon Nazarene University
Mount Vernon
RN to BSN -

School of Nursing and Health Sciences
Muskingum University
New Concord
RN to BSN -

Department of Nursing
Notre Dame College
Cleveland
RN to BSN -

Division of Nursing
Ohio Northern University
Ada
RN to BSN -

Nursing Program
Ohio University
RN to BSN -

School of Nursing

RN to BSN
Otterbein University
Westerville
RN to BSN -

Department of Nursing
University of Akron
RN to BSN -

School of Nursing
University of Cincinnati
RN to BSN -

College of Nursing

RN to BSN
University of Toledo Consortium(Consortium of University of Toledo and Bowling Green State University)
RN to BSN -

College of Nursing
University of Toledo(Affiliated with University of Toledo Consortium and with Wright State University/University of Toledo DNP Program Consortium)
RN to BSN -

College of Nursing
Urbana University
Urbana
RN to BSN -

College of Nursing and Allied Health
Ursuline College
Pepper Pike
RN to BSN -

The Breen School of Nursing
Walsh University
North Canton
RN to BSN -

School of Nursing
Wright State University
RN to BSN -

College of Nursing and Health
Xavier University
Cincinnati
RN to BSN -

School of Nursing
Youngstown State University