Outlook for Registered Nurses in Connecticut
The outlook is fair for registered nurses in Connecticut. Generally speaking, on average Connecticut nurses earn more at every level the Bureau of Labor Statistics records compared to the national average. The median salary for a registered nurse in Connecticut is just over $75,000, compared to the median annual salary of $66,640 nationwide.
Likewise, the highest paid registered nurses in Connecticut earn $100,380 compared to the national average of $98,880 at the same level. On the more entry level end, RN's in CT make around $54,490, while nationally they earn $45,880, on average.
Sources:

---
State Licensure Reciprocity
The Nurse Licensure Compact (NLC) allows nurses to have one license for nursing that gives them the ability to practice in the state where they current live as well as other states that are part of the compact agreement. Currently there are 25 states that are a part of the NLC agreement.
Connecticut is not currently a part of the NLC agreement
.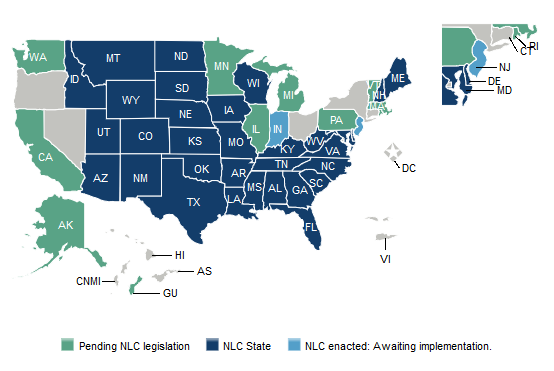 Source: National Council of State Boards of Nursing
---
---
RN to BSN Program Length for Connecticut Schools
RN to BSN programs in Connecticut typically last anywhere from 1 to 2 years. Depending on how heavy of a course load students take, the time frame can shorten to as little as 1 year.
A degree than can be completed in this short of a time frame is a bargain for learners enrolled. Contributing to a better future is something that all professionals wish to do throughout their lifetime. RN to BSN programs in Connecticut allow nurses to make a change towards a better life – both financially and personally.
RN to BSN programs are truly a great way for nurses to set themselves apart from other professionals in the nursing field. Since the nursing field is so diverse, professionals are expected to have a unique set of skills that will apply to nearly any situation. In the medical field, it is vital that professionals have recent knowledge on disease, injury, and pharmaceuticals.