+ Jump to List of RN to BSN Programs
What to Expect from an RN to BSN Program in Kentucky
During the RN to BSN program, nurses will be expected to pass tests on their knowledge of nursing and take part in hands on training under the supervision of their instructor. It is vital that nurses are taught to implement the correct techniques to patients in a professional manner. The nursing field is one of the most important branches of the healthcare field.
For registered nurses in the field, there is little worry about the availability of work throughout their career. The nursing field has remained one of the most popular fields for upcoming students in the country due to its reliability as a lifelong career. This field thrives regardless of economic downturn and provides careers in a wide variety of diverse settings.

Applying the BSN to the Workplace
Nurses at higher degree levels can work in hospitals, private practices, schools, or even for businesses. The need for a great nurse is country-wide, making this career path an excellent one for individuals wanting to make the most of their degree. Investing into a degree program is one of the best decisions a professional can make.
A higher degree provides a better way of life for professionals through an entire lifetime. The time and effort that goes into a higher degree program is a small price to pay in comparison to the years of benefits that will be received. For medical nursing professionals that need that extra addition to their already dense resume, RN to BSN programs have everything they need.
View RN-BSN Programs Accepting Applicants
State Licensure Reciprocity
The Nurse Licensure Compact (NLC) allows nurses to have one license for nursing that gives them the ability to practice in the state where they current live as well as other states that are part of the compact agreement. Currently there are 25 states that are a part of the NLC agreement.
Kentucky IS part of the NLC agreement, meaning RN licensure achieved in Kentucky can be valid in the other states that are also a part of the NLC compact agreement
.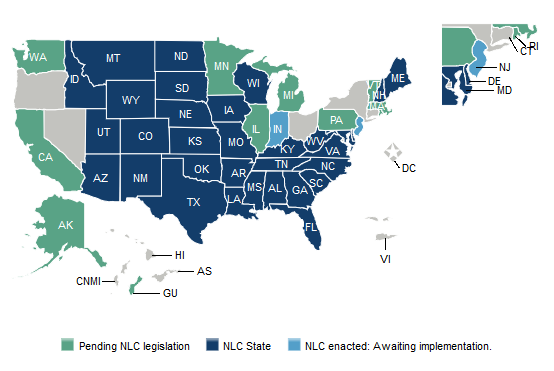 Source: National Council of State Boards of Nursing
---
View RN-BSN Programs Accepting Applicants