AD
Consider an Online Program Currently Accepting Applicants
Nevada BSN in Nursing School Highlights
Schools with RN-BSN Programs
There are 6 nursing schools in Nevada with CCNE or ACEN accredited RN to BSN / BSN programs.
Average Enrollment
Nevada universities average enrollment is 16,649 students (more than the national average of around 8,000), but the sample size of only 6 schools is pretty small.
City Availability
There are a few different cities in Nevada with nursing schools offering CCNE or ACEN-accredited Bachelor's in Nursing degrees.

AD
Consider an Online Program Currently Accepting Applicants
Nurses looking to further their degree programs will be pleased with the excellent educational programs provided throughout Nevada, but considering there are just over a handful of BSN programs in Nevada, you should also consider nearby states or
online RN to BSN programs
.
6 nursing schools in Nevada with CCNE or ACEN accredited BSN programs.
RN to BSN programs in Nevada touch on many different aspects of the nursing field. The existing knowledge of nurses working in the field pairs well with what RN to BSN programs provide.

Nevada Nursing Licensure Reciprocity
The Nurse Licensure Compact (NLC) allows nurses to have one license for nursing that gives them the ability to practice in the state where they current live as well as other states that are part of the compact agreement. Currently there are over 30 states that are a part of the NLC agreement.
As of Spring 2020: Nevada IS NOT a part of the NLC compact agreement, meaning a Nevada license for nursing will ONLY be applicable in Nevada. In the map image below, you can view all of the other states that have the license reciprocity agreement in place, but remember, if you get a Nevada RN license, it will only work in Nevada.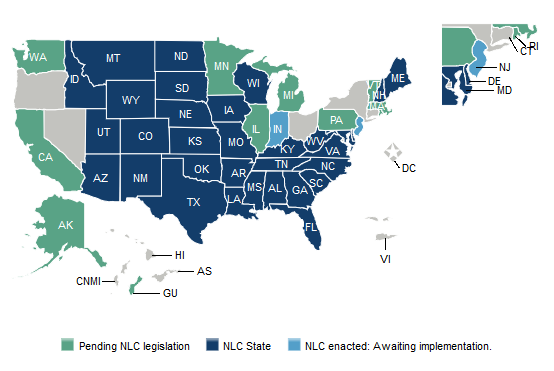 Source: National Council of State Boards of Nursing
Typical RN to BSN Courses
Additional science courses, communication, and application are some of the topics that are taught throughout these programs. They promote growth in current nurses and provide for more up to date knowledge in the field, which qualifies nurses for better positions throughout the course of their career.
Since nursing programs are designed with the professional in mind, students are given access to more flexible scheduling.
Choosing a university is the first step to a pleasing and lifelong career in the healthcare field.
RN to BSN Program Detail for Nevada Schools
RN to BSN programs in Nevada typically last from 1 to 2 years. The investment into a better future is something that students will appreciate throughout their career.
In the healthcare field, the best way to guarantee a career for life is to invest in a better degree. RN to BSN programs provide a bachelor's degree to students willing to put in the effort needed for success.
Nearby States & Nevada Nursing Resources
List of BSN Programs
All Bachelor of Science in Nursing Programs
Nevada State College
Henderson
RN to BSN -

School of Nursing
Roseman University of Health Sciences
Touro University Nevada
Henderson
RN to BSN -

School of Nursing
University of Nevada Las Vegas
RN to BSN -

School of Nursing
University of Nevada Reno
RN to BSN -

Orvis School of Nursing