AD
Consider an Online Program Currently Accepting Applicants
New Mexico BSN in Nursing School Highlights
Schools with RN-BSN Programs
There are 7 nursing schools in New Mexico with CCNE or ACEN accredited RN to BSN / BSN programs.
Average Enrollment
New Mexico universities average enrollment is 3,097 students (national average is around 8,000).
City Availability
There are 3 different cities in New Mexico with nursing schools offering CCNE or ACEN-accredited Bachelor's in Nursing degrees.

AD
Consider an Online Program Currently Accepting Applicants
Nursing has proven itself as one of the greatest professional fields throughout the country. It is difficult to image a country without nurses. The busy atmosphere of hospitals is best staffed by a large amount of qualified nurses to assist patients with the troubles they are experiencing.
7 nursing schools in New Mexico with CCNE or ACEN accredited BSN programs
In the state of New Mexico, professionals are constantly finding employment opportunity in the nursing field. The healthcare field is a huge source of employment for its residents. Nurses currently in the field are trying to find a way to stand out in the large crowd of upcoming nursing professionals.

New Mexico Nursing Licensure Reciprocity
The Nurse Licensure Compact (NLC) allows nurses to have one license for nursing that gives them the ability to practice in the state where they current live as well as other states that are part of the compact agreement. Currently there are over 30 states that are a part of the NLC agreement.
As of Spring 2020: New Mexico IS a part of the NLC compact agreement, meaning a New Mexico license for nursing will be applicable in the other states that participate in the NLC. In the map image below, you can view all of the other states that have the license reciprocity agreement in place.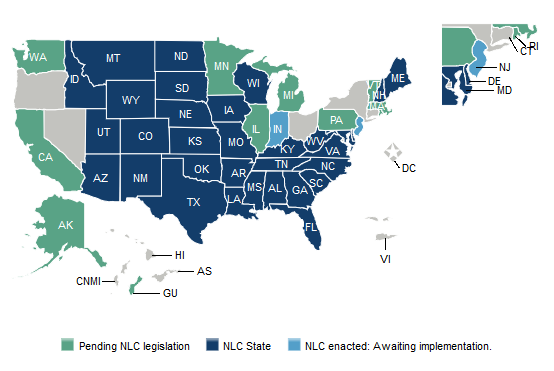 Source: National Council of State Boards of Nursing
Nursing in New Mexico
RN to BSN programs are the answer for those seeking new promotional advancements or new careers in general. Employers are no longer satisfied with associate level professionals. In order to meet the demands of employers and society as a whole, professional nurses are going back to school to get a bachelor's degree.
New Mexico currently has over 2 million residents. These residents need qualified nurses to represent them in hospitals and medical facilities throughout the state.
New Mexico offers a variety of different RN to BSN programs that allow nurses to attend classes while still maintaining full-time employment in the field.
Since these programs were designed for registered nurses specifically, professionals should take comfort in the fact that these programs are willing to accommodate busy work schedules. Courses in science and patient health are just a couple of examples of what will taught throughout this program.
Nearby States & New Mexico Nursing Resources
List of BSN Programs
All Bachelor of Science in Nursing Programs
Brookline College - Albuquerque
Eastern New Mexico University
New Mexico Highlands University
Las Vegas
RN to BSN -

RN-BSN Program
New Mexico State University
RN to BSN -

School of Nursing

RN to BSN
Northern New Mexico College
Espanola
RN to BSN -

Department of Nursing Education
University of New Mexico
RN to BSN -

College of Nursing- Health Sciences Center
Western New Mexico University
Silver City
RN to BSN -

School of Nursing