Nurses that are seeking promotion in their current career may also find it much easier with a higher degree in hand. RN to BSN programs provide new knowledge in the field of nursing that only adds to the expertise of individuals working in a clinical setting.
Choosing to pursue a higher degree in nursing will contribute to a better way of life for professionals throughout the state of New York.
New York Licensing for Registered Nurses
To practice as a Registered Nurse or LPN in New York, you have to have a license and be registered by the New York State Education Department (NYSED).

There are a few requirements according to the NYSED, including that you must:
Be of good moral character
Be at least 18 years of age
Meet education requirements (see below)
Meet examination requirements
Apply for an RN license with NYSED
Education Requirements
There are three options for passing the education requirements portion of the Registered Nurse license requirements within New York State. The most common is passing an RN education program (Associate's, Bachelor's, or Master's) that is registerd by the New York State board of education as RN-license qualifying.
Here are the licensing requirements directly from the NYSED. Visit their site for more info.
Option #1

Pass a RN education program (Associate's, Bachelor's or Master's degree or Diploma program) registered by NYSED as RN license qualifying. See our list below.

-OR-

Option #2

Pass a general nursing education program located in a country outside of the United States or its territories, which is acceptable to NYSED. You will be required to have your foreign nursing education credentials verified by CGFNS, an independent credentials verification organization. See, "Verifying Education Credentials From Non-U.S. Programs" for further instructions.

-OR-

Option #3

Pass a RN education program located in another US state or US territory, if approved by the licensing authority of the state or territory as preparation for practice as an RN. (US territories include: Puerto Rico, Guam, US Virgin Islands, Northern Mariana Islands and American Samoa).
State Licensure Reciprocity
The Nurse Licensure Compact (NLC) allows nurses to have one license for nursing that gives them the ability to practice in the state where they current live as well as other states that are part of the compact agreement. Currently there are 25 states that are a part of the NLC agreement.
New York's eligibility as a part of the NLC is currently under review and pending. Be sure to check with the National State Boards Council of Nursing (here) to check its status
.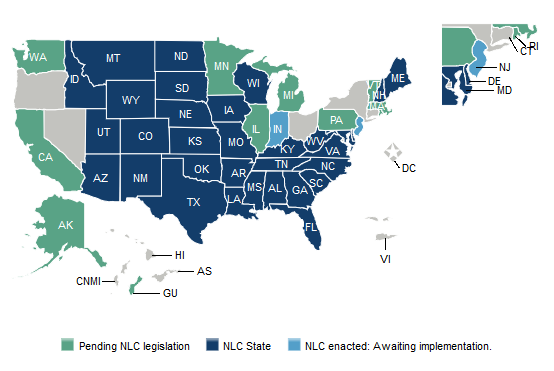 Source: National Council of State Boards of Nursing
---
Nearby States & New York Nursing Resources
---