AD
Consider an Online Program Currently Accepting Applicants
New York BSN in Nursing School Highlights
Schools with RN-BSN Programs
There are 53 nursing schools in New York with CCNE or ACEN accredited BSN programs, which is the most in the United States. The State University of New York (SUNY) offers a number of different nursing programs through its multiple campuses/different universities across the state.
Average Enrollment
New York universities' average enrollment is 5,063 students (below the national average of around 8,000). New York University (NYU) in NYC is one of the largest universities, at over 42,000 students enrolled. Touro College, Stony Brook University, and the University at Buffalo all are larger universities with 17,000+ students. But the majority of universities in New York with nursing departments actually have enrollment figures in the low to high five figures, averaging 5,000 students. This is a nice size for learning, as small class sizes keeps down student-to-teacher ratios. There are around 10 schools that have less than 1,000 students reportedly enrolled.
City Availability
There are 23 different cities in New York with nursing schools offering CCNE or ACEN-accredited Bachelor's in Nursing degrees. New York City, unsurprisingly, has the most options. Buffalo and Rochester also have a number of different universities with nursing programs from which to choose.

AD
Consider an Online Program Currently Accepting Applicants
We have 53 nursing schools in New York with CCNE or ACEN accredited BSN programs in our database.
The state of New York is known for its large buildings, successful people, and remarkably beautiful landmarks. Overall, this spot on the map signifies what people consider the American way of life. New York is a land of opportunity. As one of the most populous states in the country, its 19 million people are in need of representation in the healthcare field. Working in the healthcare field in New York is a providing opportunity that will provide success throughout a lifetime. New York has some of the largest and most prominent hospitals in the country, allowing for more prestigious opportunities for nursing professionals.
Earning Your BSN in New York
For nurses that are looking for a way to increase their standing in the field or looking for promotional opportunities, RN to BSN programs have what it takes. New York offers many different programs that assist applicants in transitioning their associate's degrees to bachelor's level in 1-2 years. These programs are excellent for nurses with only an associate's degree. Employers are more likely to require that nurses hold at least a bachelor's degree in order to qualify for new job opportunities.

New York Nursing Licensure Reciprocity
The Nurse Licensure Compact (NLC) allows nurses to have one license for nursing that gives them the ability to practice in the state where they current live as well as other states that are part of the compact agreement. Currently there are over 30 states that are a part of the NLC agreement.
As of Spring 2020: New York is not part of the NLC compact, so if you get your RN license in New York, it will only be viable in that state.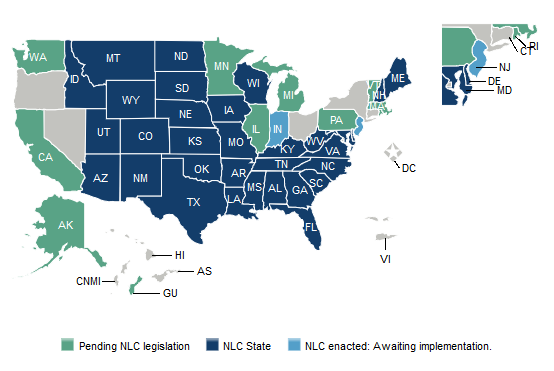 Source: National Council of State Boards of Nursing
Nurses that are seeking promotion in their current career may also find it much easier with a higher degree in hand. RN to BSN programs provide new knowledge in the field of nursing that only adds to the expertise of individuals working in a clinical setting.
Choosing to pursue a higher degree in nursing will contribute to a better way of life for professionals throughout the state of New York.
New York Licensing for Registered Nurses
To practice as a Registered Nurse or LPN in New York, you have to have a license and be registered by the New York State Education Department (NYSED).
There are a few requirements according to the NYSED, including that you must:
Be of good moral character
Be at least 18 years of age
Meet education requirements (see below)
Meet examination requirements
Apply for an RN license with NYSED
Education Requirements
There are three options for passing the education requirements portion of the Registered Nurse license requirements within New York State. The most common is passing an RN education program (Associate's, Bachelor's, or Master's) that is registered by the New York State board of education as RN-license qualifying.
Here are the licensing requirements directly from the NYSED. Visit their site for more info.
Option #1

Pass a RN education program (Associate's, Bachelor's or Master's degree or Diploma program) registered by NYSED as RN license qualifying. See our list below.

-OR-

Option #2

Pass a general nursing education program located in a country outside of the United States or its territories, which is acceptable to NYSED. You will be required to have your foreign nursing education credentials verified by CGFNS, an independent credentials verification organization. See, "Verifying Education Credentials From Non-U.S. Programs" for further instructions.

-OR-

Option #3

Pass a RN education program located in another US state or US territory, if approved by the licensing authority of the state or territory as preparation for practice as an RN. (US territories include: Puerto Rico, Guam, US Virgin Islands, Northern Mariana Islands and American Samoa).
Nearby States & New York Nursing Resources
---
List of BSN Programs
All Bachelor of Science in Nursing Programs
Adelphi University
Garden City
RN to BSN -

School of Nursing
Alfred State College SUNY College of Technology
RN to BSN -

Department of Nursing
Binghamton University
RN to BSN -

Decker School of Nursing
College at Brockport
RN to BSN -

Department of Nursing
College of Mount Saint Vincent
Bronx
RN to BSN -

Department of Nursing
College of New Rochelle
RN to BSN -

School of Nursing
College of Staten Island - CUNY
Columbia University
RN to BSN -

School of Nursing
Concordia College New York
RN to BSN -

Division of Nursing
D'Youville College
Buffalo
RN to BSN -

School of Nursing
Dominican College of Blauvelt
Orangeburg
RN to BSN -

Division of Nursing
Hartwick College
Oneonta
RN to BSN -

Department of Nursing
Helene Fuld College of Nursing
New York
RN to BSN -

Upper Division Bachelor of Science for Registered Nurses
Hunter College of City University of New York
RN to BSN -

Hunter-Bellevue School of Nursing
Keuka College
Keuka Park
RN to BSN -

Division of Nursing
Le Moyne College
Syracuse
RN to BSN -

Department of Nursing
Lehman College- City University of New York
RN to BSN -

Department of Nursing
Long Island University
RN to BSN -

C. W. Post Campus
Medgar Evers College - CUNY
Mercy College
Dobbs Ferry
RN to BSN -

Department of Nursing
Molloy College
Rockville Centre
RN to BSN -

Division of Nursing
Mount Saint Mary College
Newburgh
RN to BSN -

Division of Nursing
Nazareth College
Rochester
RN to BSN -

Department of Nursing
New York City College of Technology
New York Institute of Technology
Old Westbury
RN to BSN -

Department of Nursing
New York University
New York
RN to BSN -

College of Nursing
Niagara University
Niagara University
RN to BSN -

Department of Nursing
Nyack College
Nyack
RN to BSN -

Cheryl Phenecie School of Nursing
Pace University
RN to BSN -

Lienhard School of Nursing
Plattsburgh State University of New York
RN to BSN -

Department of Nursing
Roberts Wesleyan College
Rochester
RN to BSN -

Department of Nursing
Saint Joseph's College NY
St. Francis College
Brooklyn Heights
RN to BSN -

Department of Nursing
St. John Fisher College
RN to BSN -

Wegmans School of Nursing
State University of New York Downstate Medical Center
RN to BSN -

College of Nursing
State University of New York Empire State College
RN to BSN -

Nursing Program
State University of New York Polytechnic Institute-Rome
RN to BSN -

Department of Nursing and Health Professions
State University of New York Upstate Medical University
RN to BSN -

College of Nursing
Stony Brook University
Stony Brook
RN to BSN -

School of Nursing
SUNY College of Technology at Delhi
Touro College
New York
RN to BSN -

School of Nursing
University at Buffalo
Buffalo
RN to BSN -

State University of New York
University of Rochester
Rochester
RN to BSN -

School of Nursing
Utica College
Utica
RN to BSN -

Department of Nursing

RN to BSN