AD
Consider an Online Program Currently Accepting Applicants
Texas BSN in Nursing School Highlights
Schools with RN-BSN Programs
There are 42 nursing schools in Texas with CCNE or ACEN accredited RN to BSN / BSN programs, which is the 4th-highest number of nursing schools in the U.S. The University of Texas college system is one of the largest in the country, and responsible for many nursing program enrollments, but there are many options for public and private universities of all sizes in the state and in dozens of cities in Texas.
Average Enrollment
Texas universities average enrollment is 7,766 students (right at the national average of around 8,000). The University of Houston - Victoria reported the largest enrollment with over 35,000 students, according to the NCES. There are many options for universities in TX with nursing programs that are in the 6,000 to 9,000 range of students enrolled. This is an ideal size for learning, as faculty-to-student ratios stay in check with smaller class sizes.
City Availability
There are 18 different cities in Texas with nursing schools offering CCNE or ACEN-accredited Bachelor's in Nursing degrees. Most of the nursing schools are spread out throughout the state due to its expansive size and large population. Generally speaking, if you live within 2-3 hours of a decent sized city in Texas, you will be able to find a campus with a nursing program.

AD
Consider an Online Program Currently Accepting Applicants
42 nursing schools in Texas with CCNE or ACEN accredited BSN programs
With the 2nd-highest number of CCNE or ACEN accredited RN-BSN/BSN programs, Texas is at the top for different program offerings, behind only New York. There are numerous different options not only for nursing programs, but for employment.

Texas Nursing Licensure Reciprocity
The Nurse Licensure Compact (NLC) allows nurses to have one license for nursing that gives them the ability to practice in the state where they current live as well as other states that are part of the compact agreement. Currently there are over 30 states that are a part of the NLC agreement.
As of Spring 2020: Texas IS part of the NLC agreement. This means that the RN licensure in Texas can transfer to the other states that are a part of the NLC agreement (reciprocity).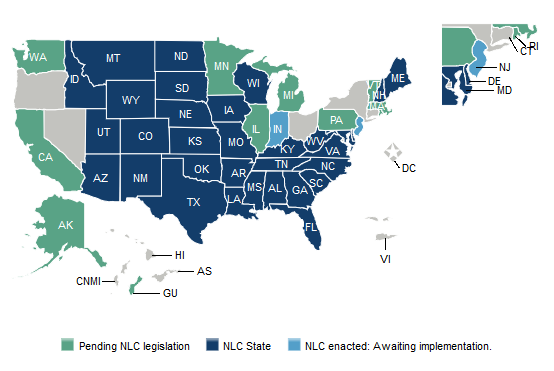 Source: National Council of State Boards of Nursing
Becoming an RN with a BSN in Texas
There are multiple statistics to consider when figuring out if you should get your BSN. The employment rate statistics are encouraging – a lower overall unemployment rate gives you a better chance to keep your job with a BSN, as well as potentially find a new place of employment where you could earn a better salary or have better benefits with your BSN degree.
The NCLEX pass rates for the state of Texas are in line with the national average. The pass rates are – for the most part – still pretty good. This means Texas nursing schools are giving an adequate learning experience for their RN to BSN programs.
---
NCLEX-RN® PASS RATES – AVERAGE FOR RN CANDIDATES
| | | | |
| --- | --- | --- | --- |
| | 2014 | 2013 | 2012 |
| TEXAS | 81.02% | 90.70% | 87.04% |
| NATIONAL | 81.74% | 84.29% | 90.22% |
---
The state of Texas uses computer adaptive testing (CAT) for the NCLEX to measure the competencies needed for newly licensed nurses. CAT testing methodologies generally involved providing questions based on your previous answers. So, if you get answer A correct, the CAT test gives you a different and maybe tougher question, as it assumes that you know some of the easier questions. It will continue to give you more difficult questions until you get a question wrong (nearly everyone gets questions wrong!).
On the other side, if you get answer A incorrect, it may give you a less difficult question. The more answers you get correct (or incorrect), the quicker you may finish the exam with less questions. For the most part, give or take, the NCLEX exam consists of a minimum of 75 and maximum of a little over 200 questions.
The CAT method of testing is adaptive to different answers from different people. More information can be found in the below video.
What is the NCLEX CAT Method of Testing?
Online RN to BSN Programs at Texas Universities
There are a number of online options for getting your RN-BSN from universities that are based in Texas. University of Texas at Arlington and Lamar University are well-known for their Online RN to BSN Programs, and each university has increased enrollments in recent years from their online programs.
Nursing Schools Spotlight
Texas Tech University Health Sciences Center
Located in Lubbock, TX, Texas Tech University's School of Nursing have a few differences that make their online RN to BSN program unique. The School of Nursing has multiple articulation agreements with over 20 community colleges, meaning they have already agreed that all or most credits taken in the ADN or RN program at the community college will transfer over to Texas Tech's RN to BSN program. Second, the length of the program is 30 credit hours and can be completed in 2-3 semesters. Lastly, TTU's RN to BSN program is one of the cheapest and most affordable, especially for Texas residents.
West Texas A&M University
The WTAMU Nursing Department offers a Special Tuition Rebate with a Package Cost of $6,950 for the RN to BSN nursing courses to in-state residents who qualify. There are several restrictions for the rebate package, including graduating within three years of admission to the WTAMU RN-BSN program, limitation on credit hour attempts for the RN-BSN program, and up-to-date payments throughout your tenure. The RN to BSN program is also available online and accredited by the CCNE.
Better Than Average Employment Opportunities in Texas
The unemployment rate in Texas is in the top 15 at a rate of 4.2% (better than the national average of 5.3%). For the sake of comparison, in Sept. 2014, Texas' unemployment rate was at 4.8%. Generally the downward average has been drastic. In January 2011, the unemployment rate in Texas was high at 8.1% (source). The Texas unemployment rate has been at or below the national rate for 103 consecutive months.
In July 2015, Texas added 31,400 jobs, including 7,100 health services jobs, according to a Dallas News article.
Helpful Texas Nursing Resources
List of BSN Programs
All Bachelor of Science in Nursing Programs
Abilene Christian University
Abilene
RN to BSN -

School of Nursing
Angelo State University
San Angelo
RN to BSN -

Department of Nursing
Baptist Health System School of Health Professions
Baylor University
Waco
RN to BSN -

Louise Herrington School of Nursing
Concordia University Texas
RN to BSN -

Department of Nursing
East Texas Baptist University
Marshall
RN to BSN -

Department of Nursing
Hardin-Simmons University(Affiliated with Patty Hanks Shelton School of Nursing)
Houston Baptist University
Lubbock Christian University
McMurry University(Affiliated with Patty Hanks Shelton School of Nursing)
Midwestern State University
Wichita Falls
RN to BSN -

Wilson School of Nursing
Prairie View A & M University
Prairie View
RN to BSN -

College of Nursing
Sam Houston State University
Huntsville
RN to BSN -

Department of Nursing
Schreiner University
Kerrville
RN to BSN -

Nursing Department
Southwestern Adventist University
Keene
RN to BSN -

Department of Nursing
Stephen F. Austin State University
Tarleton University
RN to BSN -

Department of Nursing
Texas A & M University Health Science Center
RN to BSN -

College of Nursing
Texas A & M University-Commerce
Commerce
RN to BSN -

Nursing Department
Texas A & M University-Corpus Christi
Corpus Christi
RN to BSN -

College of Nursing and Health Sciences
Texas A & M University-Texarkana
Texarkana
RN to BSN -

Nursing Program
Texas A&M International University
Texas Christian University
Fort Worth
RN to BSN -

Harris College of Nursing and Health Sciences
Texas State University
RN to BSN -

St. David's School of Nursing
Texas Tech University Health Sciences Center
Lubbock
RN to BSN -

School of Nursing
Texas Tech University Health Sciences Center-El Paso
RN to BSN -

Gayle Greve Hunt School of Nursing
Texas Woman's University
Denton
RN to BSN -

College of Nursing
The University of Texas at El Paso
El Paso
University of Houston - Victoria
RN to BSN -

School of Nursing
University of Mary Hardin-Baylor
Belton
RN to BSN -

Scott and White College of Nursing
University of Texas Arlington
Arlington
University of Texas at Arlington
RN to BSN -

College of Nursing
University of Texas at Austin
RN to BSN -

School of Nursing
University of Texas at El Paso
RN to BSN -

School of Nursing
University of Texas at Tyler
RN to BSN -

College of Nursing and Health Sciences
University of Texas Health Science Center at Houston
RN to BSN -

School of Nursing
University of Texas Health Science Center at San Antonio
RN to BSN -

School of Nursing
University of Texas Medical Branch at Galveston
RN to BSN -

School of Nursing
University of Texas Rio Grande Valley
University of Texas-Pan American
RN to BSN -

Nursing Department
University of the Incarnate Word
San Antonio
RN to BSN -

School of Nursing & Health Professions
Wayland Baptist University
West Texas A & M University
Canyon
RN to BSN -

Department of Nursing