What to Know About an RN to BSN Program
For nurses seeking promotional RN to BSN programs, Nebraska has programs just waiting for applicants. RN to BSN programs provides additional skills and knowledge in the field of nursing in subjects such as science and application.
The skills learned throughout this program will also give nurses better communication skills so that each and every patient is given only the best care available.
Key Skills to Gain as a Nurse
The science that goes into nursing is constantly changing with new techniques and research being released constantly. Pursuing a higher degree path will give nurses an advantage above others applying for similar positions.

The importance of social skills, communication, and science all pair together to make a great nursing professional. These skills are best acquired through RN to BSN programs in the state of Nebraska.
State Licensure Reciprocity
The Nurse Licensure Compact (NLC) allows nurses to have one license for nursing that gives them the ability to practice in the state where they current live as well as other states that are part of the compact agreement. Currently there are 25 states that are a part of the NLC agreement.
Nebraska IS a part of the NLC compact agreement, meaning a Nebraska license for nursing will be applicable in the other states that participate in the NLC
. In the map image below, you can view all of the other states that have the license reciprocity agreement in place.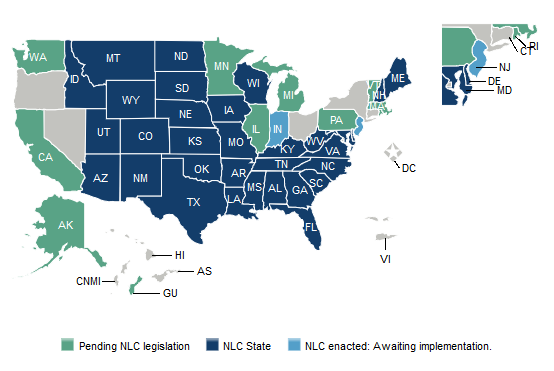 Source: National Council of State Boards of Nursing
---
Nearby States & Nebraska Nursing Resources