AD
Consider an Online Program Currently Accepting Applicants
Georgia BSN in Nursing School Highlights
Schools with RN-BSN Programs
There are 30 nursing schools in Georgia with CCNE or ACEN accredited RN to BSN / BSN programs.
Average Enrollment
Georgia universities average enrollment is 10,657 students (larger than the national average).
City Availability
There are 12 different cities in Georgia with nursing schools offering CCNE or ACEN-accredited Bachelor's in Nursing degrees, with Atlanta having the most universities.

AD
Consider an Online Program Currently Accepting Applicants
In the state of Georgia, medical professionals find an environment that is fitting for their hard working nature. The southern state of Georgia is an excellent place to live and an enjoyable place to find a career. For nurses working in Georgia, the ability to obtain better employment opportunities has been made available due to the addition of RN to BSN programs. Individuals that work in the nursing field have found that these degree programs provide an excellent source of further education that will benefit them throughout their lifetime.

Georgia Nursing Licensure Reciprocity
The Nurse Licensure Compact (NLC) allows nurses to have one license for nursing that gives them the ability to practice in the state where they current live as well as other states that are part of the compact agreement. Currently there are over 30 states that are a part of the NLC agreement.
As of Spring 2020: Georgia is not currently a part of the NLC agreement.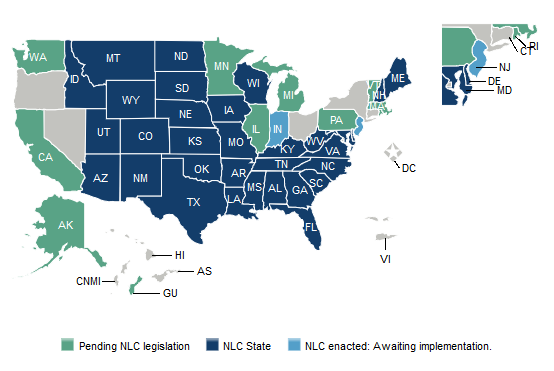 Source: National Council of State Boards of Nursing
What Does the RN to BSN Entail?
RN to BSN programs provide a curriculum that is relevant to the field of nursing. Since the program is shorter than most higher degree programs, students are only given the courses that they need to be the best in the nursing field. Most introductory courses in nursing provide knowledge in general fields such as anatomy and physiology.
In a specific RN to BSN program, the curriculum is designed to build on that existing knowledge to mold a more effective professional. While in the program, individuals will engage in courses such as Clinical Care Across the Lifespan and Advanced Clinical Practice. These programs are designed to give learners the experience needed to open themselves up to better paying positions at both the staff and management level.
A note about Online RN to BSN programs
RN to BSN programs can also be attended in an online setting, which provides the same helpful information in a more convenient setting. These courses are just as informative as traditional learning programs. View more information on the online RN to BSN program here.
List of BSN Programs
All Bachelor of Science in Nursing Programs
Armstrong Atlantic State University
Savannah
RN to BSN -

Department of Nursing
Berry College
Mount Berry
RN to BSN -

Division of Nursing
Brenau University
Gainesville
RN to BSN -

Department of Nursing
Clayton State University
RN to BSN -

School of Nursing
College of Coastal Georgia
Columbus State University
Columbus
RN to BSN -

School of Nursing

RN to BSN
Emmanuel College
Franklin Springs
RN to BSN -

Department of Nursing
Emory University
Atlanta
RN to BSN -

Nell Hodgson Woodruff School of Nursing
Georgia College and State University
Georgia Highlands College
RN to BSN -

RN-BSN Online Completion Program
Georgia Regents University
RN to BSN -

College of Nursing
Georgia Southern University
Statesboro
RN to BSN -

School of Nursing
Georgia Southwestern State University
Georgia State University
Atlanta
RN to BSN -

Byrdine F. Lewis School of Nursing & Health Professions
Kennesaw State University
Kennesaw
RN to BSN -

WellStar School of Nursing
Mercer University
Macon
RN to BSN -

Georgia Baptist College of Nursing
Middle Georgia State College
Shorter University
Rome
RN to BSN -

School of Nursing
South Georgia State College
University of North Georgia
University of West Georgia
Carrollton
RN to BSN -

Tanner Health System School of Nursing
Valdosta State University
Valdosta
RN to BSN -

College of Nursing