What Does the RN to BSN Entail?
RN to BSN programs provide a curriculum that is relevant to the field of nursing. Since the program is shorter than most higher degree programs, students are only given the courses that they need to be the best in the nursing field. Most introductory courses in nursing provide knowledge in general fields such as anatomy and physiology.
In a specific RN to BSN program, the curriculum is designed to build on that existing knowledge to mold a more effective professional. While in the program, individuals will engage in courses such as Clinical Care Across the Lifespan and Advanced Clinical Practice. These programs are designed to give learners the experience needed to open themselves up to better paying positions at both the staff and management level.
A note about Online RN to BSN programs
RN to BSN programs can also be attended in an online setting, which provides the same helpful information in a more convenient setting. These courses are just as informative as traditional learning programs. View more information on the online RN to BSN program here.

---
State Licensure Reciprocity
The Nurse Licensure Compact (NLC) allows nurses to have one license for nursing that gives them the ability to practice in the state where they current live as well as other states that are part of the compact agreement. Currently there are 25 states that are a part of the NLC agreement.
Georgia is not currently a part of the NLC agreement
.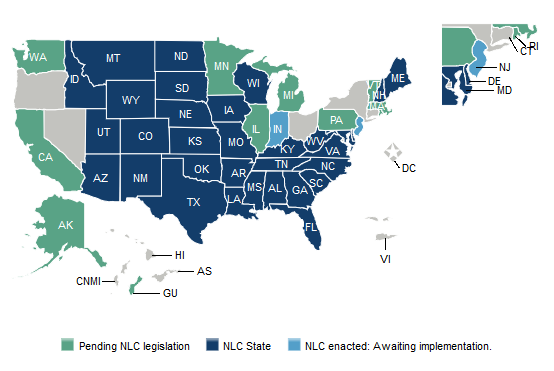 Source: National Council of State Boards of Nursing
---