AD
Consider an Online Program Currently Accepting Applicants
Michigan BSN in Nursing School Highlights
Schools with RN-BSN Programs
There are 24 nursing schools in Michigan with CCNE or ACEN accredited RN to BSN / BSN programs.
Average Enrollment
Michigan universities average enrollment is 12,097 students (more than the national average). Michigan State University, in East Lansing, brings the average for the state of Michigan up with its 46,000+ students. On the other end of the spectrum, Rochester College and Finlandia University (Hancock) have under 1,000 students each.
City Availability
There are around 17 different cities in Michigan with nursing schools offering CCNE or ACEN-accredited Bachelor's in Nursing degrees. Detroit has the most options, with Grand Rapids and Rochester coming in next.

AD
Consider an Online Program Currently Accepting Applicants
With over 20 different accredited RN-BSN programs, Michigan has a lot of educational opportunity for registered nurses looking to get their Bachelor's in Nursing degree.
24 nursing schools in Michigan with CCNE or ACEN accredited BSN programs
The rise in importance in field such as nursing has allowed for universities within this state to develop specialized RN to BSN programs to assist professionals with bettering their degrees for a better career overall. With all that Michigan has to offer, it is a great place to pursue a career in nursing. Nurses are one of the leading sources of support for the healthcare field.

Michigan Nursing Licensure Reciprocity
The Nurse Licensure Compact (NLC) allows nurses to have one license for nursing that gives them the ability to practice in the state where they current live as well as other states that are part of the compact agreement. Currently there are over 30 states that are a part of the NLC agreement.
As of Spring 2020: Michigan's eligibility as a part of the NLC is currently under review and pending.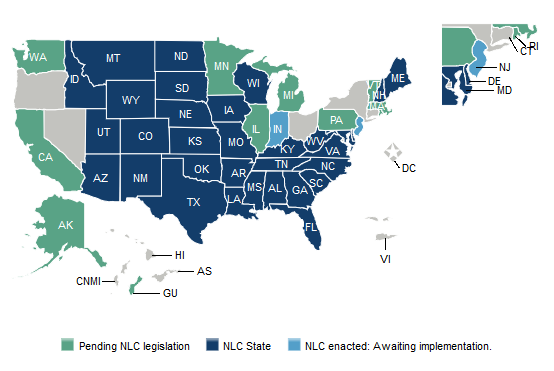 Source: National Council of State Boards of Nursing
The BSN in Michigan
Without knowledgeable nurses, it would be nearly impossible for doctors to assist patients within a reasonable time frame. There is no way that doctors could help the high volume of people daily as they do now with the assistance of qualified nurses.
With that being said, it is easy to see how important nurses are in every day healthcare. The popularity of the nursing field as a career path has remained high over time.
Students are given the choice of traditional or online programs, each providing their own unique level of convenience. RN to BSN programs were designed to be easy for busy professionals to attend.
Consider an Online RN to BSN
Since most nurses are still employed full-time while attending school, these programs allow for scheduling that best fits their schedules. Online programs have also been on the rise in recent years.
Online programs allow students to learn from their own home while still receiving the same quality of education.
List of BSN Programs
All Bachelor of Science in Nursing Programs
Baker College
RN to BSN -

School of Nursing
Calvin College
Grand Rapids
RN to BSN -

Department of Nursing
Davenport University
Grand Rapids
RN to BSN -

Mable Engle Program of Nursing
Eastern Michigan University
Ypsilanti
RN to BSN -

School of Nursing
Eastern Michigan Universty
Finlandia University
Hancock
RN to BSN -

Nursing Program
Grand Valley State University
Allendale
RN to BSN -

Kirkhof College of Nursing
Hope College
Holland
RN to BSN -

Nursing Department
Lake Superior State University
Madonna University
Livonia
RN to BSN -

College of Nursing and Health
Michigan State University
East Lansing
RN to BSN -

College of Nursing
Northern Michigan University
Marquette
RN to BSN -

School of Nursing
Oakland University
Rochester Hills
RN to BSN -

School of Nursing
Rochester College
Rochester Hills
RN to BSN -

School of Nursing
Saginaw Valley State University
University Center
RN to BSN -

Crystal M. Lange College of Nursing & Health Sciences
Siena Heights University
Adrian
RN to BSN -

Nursing Program
Spring Arbor University
Spring Arbor
RN to BSN -

MSN/BSN Programs
University of Detroit Mercy
Detroit
RN to BSN -

McAuley School of Nursing
University of Michigan - Ann Arbor
RN to BSN -

School of Nursing
University of Michigan - Flint
RN to BSN -

Department of Nursing
Wayne State University
Detroit
RN to BSN -

College of Nursing
Western Michigan University
Kalamazoo
RN to BSN -

Bronson School of Nursing