+ Jump to List of RN to BSN Programs
The state of Maine is known for its high quality education. Students seeking higher education in this area will find that the possibilities for advancement are pleasing and well-providing. For those seeking further education in nursing, Maine also provides a wealth of information.
The Changing Landscape of Nursing in Maine
In recent years, technology has changed the way that nurses operate in a health care setting. Nurses must stay current with what technology contributes to their field, so that patients are given only the best quality care. Continuous learning is a necessity for individuals in the nursing field.

As professionals are subjected to individuals from different cultures and walks of life, they are expected to maintain the same level of expertise.
View RN-BSN Programs Accepting Applicants
The Need for More BSN's
Employers are looking for candidates for employment that have the most recent knowledge in the field of nursing. Those nurses that currently have associate's degree or lower in nursing will find that pursuing a higher degree is the best choice for a great career in the nursing field.
RN to BSN programs in Maine allow current registered nurses to continue working while taking part in the degree program. Working as a nurse can be extremely overwhelming on its own, which is why flexible RN to BSN programs are the best option for bettering a degree.
View RN-BSN Programs Accepting Applicants
State Licensure Reciprocity
The Nurse Licensure Compact (NLC) allows nurses to have one license for nursing that gives them the ability to practice in the state where they current live as well as other states that are part of the compact agreement. Currently there are 25 states that are a part of the NLC agreement.
Maine IS part of the NLC agreement
.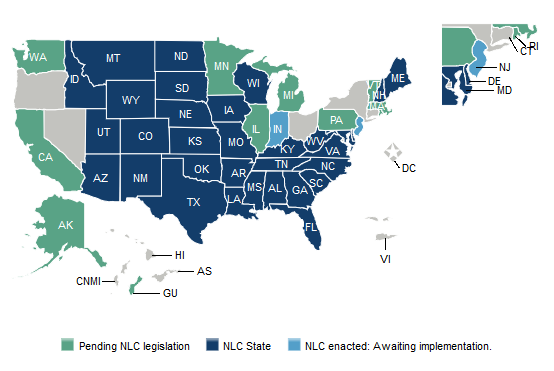 Source: National Council of State Boards of Nursing
---