AD
Consider an Online Program Currently Accepting Applicants
Alaska BSN in Nursing School Highlights
Schools with RN-BSN Programs
There are limited number of programs in Alaska, with only one (1) nursing school in Alaska with an ACEN accredited BSN program.
Average Enrollment
With only 1 accredited BSN program in the state, you might consider
viewing online RN to BSN programs
if you live in Alaska and are interested in earning your RN to BSN degree.
City Availability
The only city with a nursing school offering CCNE or ACEN-accredited Bachelor's in Nursing degrees is Anchorage.

AD
Consider an Online Program Currently Accepting Applicants
Alaska's RN to BSN programs typically request that applicants have knowledge and understanding in the field of nursing prior to enrollment. Most applicants to this program are already registered nurses, making it easier to comprehend the studies and applications ahead. The existing knowledge could provide a stable foundation for further learning in nursing. Since the program is so short, it builds greatly on what the learner already knows through previous schooling. During this program, students could be required to take part in clinical training at healthcare settings. This training could prove that nurses are implementing the appropriate procedures to patients in a professional manner. Different universities provide different levels of course scheduling and requirements.

Alaska Nursing Licensure Reciprocity
The Nurse Licensure Compact (NLC) allows nurses to have one license for nursing that gives them the ability to practice in the state where they current live as well as other states that are part of the compact agreement. Currently there are over 30 states that are a part of the NLC agreement.
As of Spring 2020: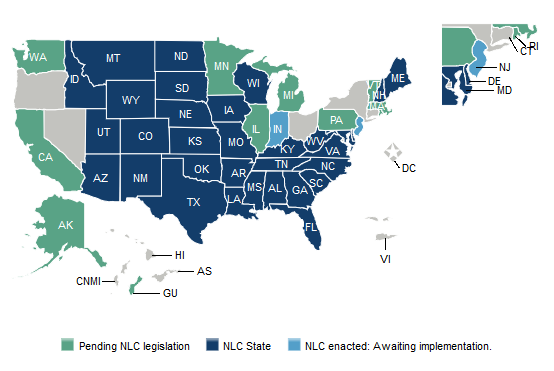 Source: National Council of State Boards of Nursing
What to Look for in an RN to BSN Program
Students should seek a program that fits their needs as a professional. The healthcare field is in constant need of new employees. Since there are always vast employment opportunities, this field is one of the most preferred among new professionals. For those already working in the field, nursing provides a career that provides financially and personally.
Obtaining a higher degree provides more for nurses throughout the field. More job opportunities are available to those with higher degrees at the management level and beyond. As technology continues to change the way the world works, it is necessary to find a degree that could change with it. RN to BSN programs are the best option for nurses that seek a career they can count on.
The short length of the program paired with the extensive benefits contributes to why more individuals are choosing this path each year. In order to be the most qualified nurse for the position, RN to BSN programs could be the answer.
What Can You Do With a BSN Degree in Alaska?
Alaska's population is 710,231 in recent counts. Although this population is small in comparison to other states, it has no lack of employment opportunities. Nursing professionals at the bachelor's level are needed to fill positions in busy hospitals and medical facilities throughout this state. As the healthcare field changes and improves with better techniques, professionals could be needed to fill open positions.
Nurses are needed in many different specialties, providing a helping hand to people from all backgrounds. Turnover is high in any medical-related field, so nursing is a field that could provide well for individuals wanting a career they can rely on. Advancing to a bachelor's degree has a wide variety of benefits. Financially, bachelor's level nurses earn more on average than lower degree holders.
Registered Nurse Salary with a BSN Degree
According to the BLS, nurses can earn $85,740 per year on average while working in Alaska. It is easy to see why many professionals choose this field, considering its high rate of pay. In comparison to other bachelor's level positions, nurses in Alaska earn well beyond the average. For nurses wanting that extra addition to their resume, a bachelor's degree is the best option.