Career as an RN with a BSN
The job market is more accepting of nurses with higher degree programs. A higher degree communicated experience and expertise. As the nation's population continues to grow each year, the need for qualified medical professionals will also continue to rise.
Employers have changed the way that they hire nurses. More employers want nurses with higher degrees, due to their current knowledge of this diverse field. Nursing professionals at the bachelor's level will find that they have more opportunity for careers in higher positions. Positions in management, supervision, and even research are accepting of higher level graduates.
Higher degrees can mean more money and more career opportunities for those that are willing to take part in RN to BSN programs. As technology contributes new scientific changes to the healthcare field as a whole, nurses will be expected to adjust their understanding of the different concepts.

View RN-BSN Programs Accepting Applicants
State Licensure Reciprocity
The Nurse Licensure Compact (NLC) allows nurses to have one license for nursing that gives them the ability to practice in the state where they current live as well as other states that are part of the compact agreement. Currently there are 25 states that are a part of the NLC agreement.
Maryland IS part of the NLC agreement
.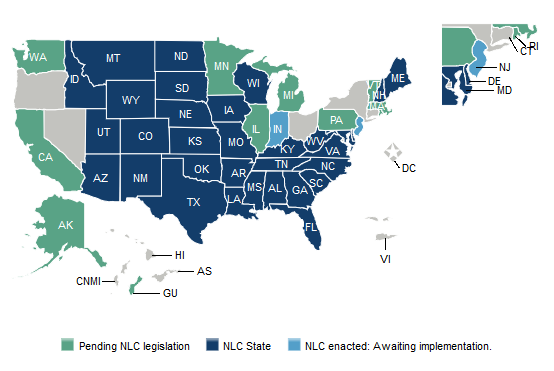 Source: National Council of State Boards of Nursing
---