AD
Consider an Online Program Currently Accepting Applicants
Kansas BSN in Nursing School Highlights
Schools with RN-BSN Programs
There are 13 nursing schools in Kansas with CCNE or ACEN accredited RN to BSN / BSN programs.
Average Enrollment
Kansas universities average enrollment is 6,664 students (smaller than the national average).
City Availability
There are 10 different cities in Kansas with nursing schools offering CCNE or ACEN-accredited Bachelor's in Nursing degrees.

AD
Consider an Online Program Currently Accepting Applicants
There are currently 2.8 million residents in the state of Kansas. The population of Kansas needs qualified professionals to care for them during illness and injury. The healthcare field is the main source of employment for individuals throughout the country. Providing jobs to millions of residents each year, healthcare is a monumental industry. Whether you are looking for a new career or hoping for advancement in their current careers, having a higher degree can contribute to success for both, especially for RN's looking to get their BSN.

Kansas Nursing Licensure Reciprocity
The Nurse Licensure Compact (NLC) allows nurses to have one license for nursing that gives them the ability to practice in the state where they current live as well as other states that are part of the compact agreement. Currently there are over 30 states that are a part of the NLC agreement.
As of Spring 2020: Kansas IS part of the NLC agreement, meaning licensure earned in Kansas is valid in the other states that are part of the NLC.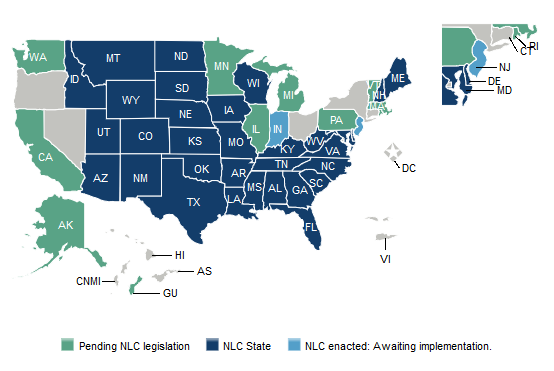 Source: National Council of State Boards of Nursing
Typical Curriculum for an RN-BSN
In RN to BSN programs, students can choose traditional or online learning. Both programs provide the same curriculum, with one in-person and the other online.
Throughout the program, students will be enlightened to the many different areas that nurses are involved in. From employee management to finance, students will be expected to master nursing-related topics. Furthering research and development in nursing will also be studied, contributing to the excellence of students going through the program.
Career as a Nurse in Kansas
Working in the healthcare field in Kansas is an excellent way of life for those within. Those in this field are confident in their positions and know that they have jobs for life. However, with recent changes to the educational requirements for nurses, more professionals in this field are finding it necessary to get back into school and better their degree.
The BSN in 10 Recommendation
Nurses could typically satisfy employers with associate's level degrees. More recently, employers have started to accept a minimum of a bachelor's degree for open positions. In response to these changes, universities throughout the state of Kansas have opened RN to BSN programs especially for individuals with associate's level degrees in nursing.
These programs provide extensive information in science and social aspects of nursing, contributing to better professionals overall. Taking advantage of these programs will prove to be a smart choice for nurses looking for an advantage above the rest.
List of BSN Programs
All Bachelor of Science in Nursing Programs
Baker University
Baldwin City
RN to BSN -

School of Nursing
Benedictine College
Atchison
RN to BSN -

Department of Nursing
Fort Hays State University
Hays
RN to BSN -

Department of Nursing

RN to BSN
MidAmerica Nazarene University
Olathe
RN to BSN -

School of Nursing and Health Science
Newman University
Wichita
RN to BSN -

School of Nursing and Allied Health
Ottawa University
RN to BSN -

Nursing Program
Pittsburg State University
Pittsburg
RN to BSN -

Irene Ransom Bradley School of Nursing
Tabor College
Hillsboro
RN to BSN -

Nursing Department
University of Kansas
Lawrence
RN to BSN -

School of Nursing
University of Saint Mary
Leavenworth
RN to BSN -

Department of Nursing
Washburn University of Topeka
RN to BSN -

School of Nursing
Wichita State University
Wichita
RN to BSN -

School of Nursing