Career as a RN in Massachusetts
As a career choice, nursing has always been one that is reliable for those involved. Those working in the field at a bachelor's degree level have found that there are numerous benefits associated with having a higher degree.
According to the BLS, higher level nurses can earn $85,770 per year, a remarkably high average in comparison to similar bachelor's level positions. Nursing is a vital to the success of hospitals and other medical facilities. Nurses provide direct assistant to doctors, working with patients to assess and treat minor medical situations.
Nurses also have the responsibility of paperwork, making their every day job even more complex. With RN to BSN programs, these hard working professionals are given the opportunities to advance their degree without having to dedicate a large amount of time. For those that are so heavily relied on throughout the state, this program provides everything they deserve.

View RN-BSN Programs Accepting Applicants
State Licensure Reciprocity
The Nurse Licensure Compact (NLC) allows nurses to have one license for nursing that gives them the ability to practice in the state where they current live as well as other states that are part of the compact agreement. Currently there are 25 states that are a part of the NLC agreement.
Massachusetts' eligibility as a part of the NLC is currently under review and pending. Be sure to check with the National State Boards Council of Nursing (here) to check its status
.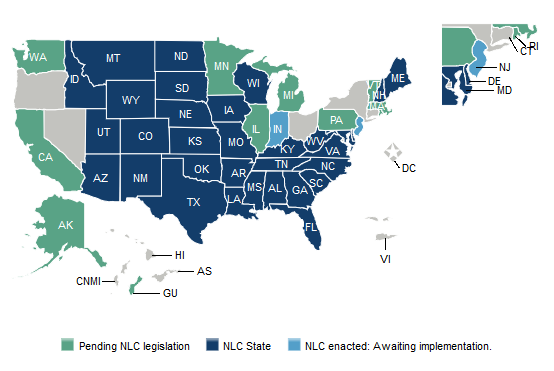 Source: National Council of State Boards of Nursing
---