AD
Consider an Online Program Currently Accepting Applicants
Massachusetts BSN in Nursing School Highlights
Schools with RN-BSN Programs
There are 22 nursing schools in Massachusetts with CCNE or ACEN accredited BSN programs.
Average Enrollment
Massachusetts universities average enrollment is 10,864 students (more than the national average). The popular nursing school Northeastern University ranks near the top of the list for Massachusetts enrollment, with 25,837 students.
City Availability
There are a dozen different cities in Massachusetts with nursing schools offering CCNE or ACEN-accredited Bachelor's in Nursing degrees, with Boston leading the way with a handful of different nursing schools. The other schools are spread out across the state.

AD
Consider an Online Program Currently Accepting Applicants
The healthcare field has always been a leading employer for new graduates. It provides reliable employment that remains unaffected by changes in the economy. Nurses are some of the most important people in the healthcare field as a whole.
22 nursing schools in Massachusetts with CCNE or ACEN accredited RN to BSN programs
These individuals work hard to assist patients with everyday illnesses and injuries, on the path to a healthier way of life. Nurses can be found in medical facilities, schools, and even in sports. The need for caring increases alongside the growing population.

Massachusetts Nursing Licensure Reciprocity
The Nurse Licensure Compact (NLC) allows nurses to have one license for nursing that gives them the ability to practice in the state where they current live as well as other states that are part of the compact agreement. Currently there are over 30 states that are a part of the NLC agreement.
As of Spring 2020: Massachusetts' eligibility as a part of the NLC is currently under review and pending. Be sure to check with the National State Boards Council of Nursing (here) to check its status.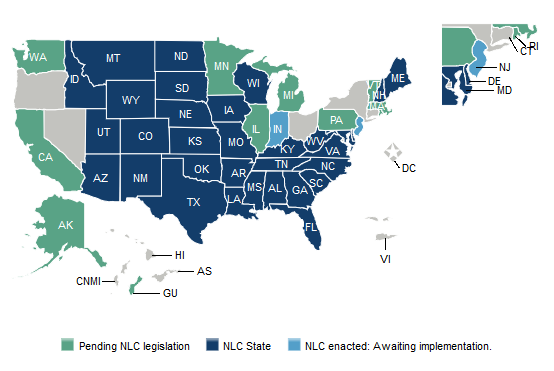 Source: National Council of State Boards of Nursing
Career as a RN in Massachusetts
As a career choice, nursing has always been one that is reliable for those involved. Those working in the field at a bachelor's degree level have found that there are numerous benefits associated with having a higher degree.
According to the BLS, higher level nurses can earn $85,770 per year, a remarkably high average in comparison to similar bachelor's level positions. Nursing is a vital to the success of hospitals and other medical facilities. Nurses provide direct assistant to doctors, working with patients to assess and treat minor medical situations.
Nurses also have the responsibility of paperwork, making their every day job even more complex. With RN to BSN programs, these hard working professionals are given the opportunities to advance their degree without having to dedicate a large amount of time. For those that are so heavily relied on throughout the state, this program provides everything they deserve.
List of BSN Programs
All Bachelor of Science in Nursing Programs
American International College
Springfield
RN to BSN -

Division of Nursing
Boston College
Chestnut Hill
RN to BSN -

William F. Connell School of Nursing
Curry College
Milton
RN to BSN -

Division of Nursing
Elms College
RN to BSN -

School of Nursing
Fitchburg State University
Fitchburg
RN to BSN -

Department of Nursing
Framingham State University
Framingham
RN to BSN -

Department of Nursing
Laboure College
Boston
RN to BSN -

Division of Nursing
MCPHS University
RN to BSN -

School of Nursing
MGH Institute of Health Professions
Boston
RN to BSN -

School of Nursing
Northeastern University
Boston
RN to BSN -

MA | Online

RN to BSN -

School of Nursing
Salem State University
Salem
RN to BSN -

School of Nursing
Simmons College
Boston
RN to BSN -

School of Nursing and Health Sciences
University of Massachusetts - Dartmouth
North Dartmouth
University of Massachusetts Amherst
Amherst
RN to BSN -

College of Nursing
University of Massachusetts Boston
RN to BSN -

College of Nursing & Health Sciences
University of Massachusetts Dartmouth
RN to BSN -

College of Nursing
University of Massachusetts Lowell
RN to BSN -

School of Nursing
Westfield State University
Westfield
RN to BSN -

Department of Nursing
Worcester State University
Worcester
RN to BSN -

Department of Nursing