AD
Consider an Online Program Currently Accepting Applicants
North Carolina BSN in Nursing School Highlights
Schools with RN-BSN Programs
There are 24 nursing schools in North Carolina with CCNE or ACEN accredited RN to BSN / BSN programs.
Average Enrollment
North Carolina universities average enrollment is 9,371 students (smaller than the national average). The University of North Carolina at Chapel Hill is the largest at over 28,500 students, with East Carolina University close behind with just under 27,700. There are smaller, private universities with BSN programs as well: Cabarrus College of Health Sciences and Lees-McRae College each have enrollments under 1,000 students.
City Availability
There are over a dozen different cities in North Carolina with nursing schools offering CCNE or ACEN-accredited Bachelor's in Nursing degrees. Charlotte and Fayetteville both have multiple options for nursing schools.

AD
Consider an Online Program Currently Accepting Applicants
24 nursing schools in North Carolina in our online directory with CCNE or ACEN accredited RN to BSN programs
With 12+ cities in North Carolina and 20+ colleges with nursing schools offering an RN to BSN program, there are many opportunities for Registered Nurses to get their Bachelors in Nursing degree in North Carolina.
Why an RN to BSN Program in North Carolina?
After completing an RN to BSN program, nurses can seek out positions in hospitals, schools, or even in specialty services. There is truly no end to the possibilities for nurses at this educational level. Companies desire higher level graduates to fill their positions. Since most graduates of this program have some experience in the nursing field, there are a plethora of job opportunities that they qualify for upon graduation. Nurses can further their expertise medical business-related fields with a higher degree in nursing. Since this aspect of the healthcare field requires constant innovation, nursing professionals are needed to provide educated assistance in creating new technologies.

North Carolina Nursing Licensure Reciprocity
The Nurse Licensure Compact (NLC) allows nurses to have one license for nursing that gives them the ability to practice in the state where they current live as well as other states that are part of the compact agreement. Currently there are over 30 states that are a part of the NLC agreement.
As of Spring 2020: North Carolina IS part of the NLC agreement. This means that the RN licensure in North Carolina can transfer to the other states that are a part of the NLC agreement (reciprocity).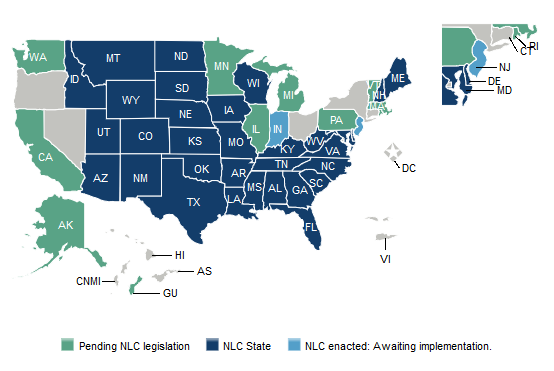 Source: National Council of State Boards of Nursing
Nursing Careers in North Carolina
Having a successful career is an accomplishment that sets the foundation for an excellent way of life for years to come. Those in search of the perfect career are dedicated and willing to go the extra mile to obtain a great way of life. Finding a career to last a lifetime is not always the easiest feat to achieve.
There are many people searching for careers with similar credentials, making it difficult to get the job desired. The job market can be a difficult place to begin, so individuals can be intimidated with the idea of advancement in any situation. In regards to the job market, North Carolina is a great place to start a career. There are numerous job availability throughout the state in many different areas, and healthcare is widely considered one of the top careers to pursue.
Why RNs Get Their BSN
Taking a degree to the next level can provide more than just financial possibilities for nursing professionals. Pursuing a better degree promotes success in professionals. With a higher degree, professionals could be sought out in higher positions, making the transition worthwhile.
Competition in Nursing Careers
In competition with recent graduates, nurses currently working in the field need something to set them apart from the rest. Employers seek candidates at the bachelor's level to fill open positions. Higher education is a necessity in today's society, with the recent innovations in technology. Further experience means more opportunity, which can pay learners back drastically.
More people are finding the means to get into college, meaning more graduate competing for open positions in the job market. In order to accommodate for this increase, current nurses in the field should consider higher education as the best option. Throughout the lifetime of a career, a bachelor's degree could be an asset that is ever-providing.
List of BSN Programs
All Bachelor of Science in Nursing Programs
Appalachian State University
Boone
RN to BSN -

Department of Nursing
Barton College
Wilson
RN to BSN -

School of Nursing
Cabarrus College of Health Sciences
Concord
RN to BSN -

Louise Harkey School of Nursing
Duke University
Durham
RN to BSN -

School of Nursing
East Carolina University
Greenville
RN to BSN -

College of Nursing
Fayetteville State University
Fayetteville
RN to BSN -

Department of Nursing
Lees-McRae College
Banner Elk
Lenoir-Rhyne University
Hickory
RN to BSN -

School of Nursing
Methodist University
Fayetteville
RN to BSN -

Department of Nursing
North Carolina Agricultural & Technical State University
North Carolina Central University
Pfeiffer University
Misenheimer
RN to BSN -

Department of Nursing
Queens University of Charlotte
Charlotte
RN to BSN -

Presbyterian School of Nursing
University of Mount Olive
RN to BSN -

Department of Nursing
University of North Carolina - Greensboro
University of North Carolina at Chapel Hill
Chapel Hill
RN to BSN -

School of Nursing
University of North Carolina at Charlotte
Charlotte
University of North Carolina at Greensboro
Greensboro
RN to BSN -

School of Nursing
University of North Carolina at Pembroke
Pembroke
RN to BSN -

Department of Nursing
University of North Carolina at Wilmington
RN to BSN -

School of Nursing
Western Carolina University - Cullowhee
RN to BSN -

School of Nursing
Winston-Salem State University
Winston-Salem
RN to BSN -

Division of Nursing