AD
Consider an Online Program Currently Accepting Applicants
Pennsylvania BSN in Nursing School Highlights
Schools with RN-BSN Programs
There are 45 nursing schools in Pennsylvania with CCNE or ACEN accredited RN to BSN / BSN programs. Philadelphia and Pittsburgh are host to many of the nursing schools in PA, but there are also rural areas where students decide to go to college.
Average Enrollment
Pennsylvania universities average enrollment is 6,819 students (national average is around 8,000). Temple University (35,000+), University of Pennsylvania (24,000+), and Drexel University (21,000+) are among the largest universities in the state. Most options, however, have enrollments of around 5,000 students. Some schools have under 1,000.
City Availability
There are 25 different cities in Pennsylvania with nursing schools offering CCNE or ACEN-accredited Bachelor's in Nursing degrees. As previously mentioned, Philadelphia and Pittsburgh have the most, but other cities like Villanova, Scranton, and Reading also have different options.

AD
Consider an Online Program Currently Accepting Applicants

Pennsylvania Nursing Licensure Reciprocity
The Nurse Licensure Compact (NLC) allows nurses to have one license for nursing that gives them the ability to practice in the state where they current live as well as other states that are part of the compact agreement. Currently there are over 30 states that are a part of the NLC agreement.
As of Spring 2020: Pennsylvania's NLC reciprocity is currently pending legislation from the NLC.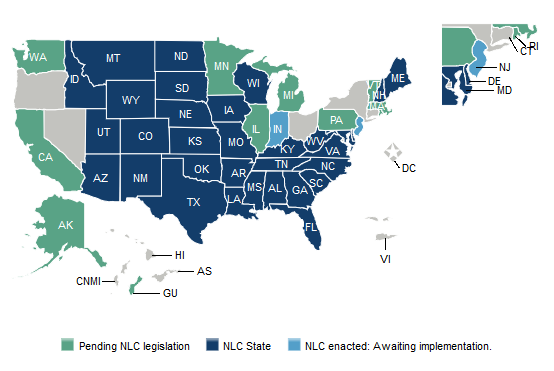 Source: National Council of State Boards of Nursing
List of BSN Programs
All Bachelor of Science in Nursing Programs
Alvernia University
Reading
RN to BSN -

Department of Nursing
Bloomsburg University of Pennsylvania
Bloomsburg
RN to BSN -

Department of Nursing
California University of Pennsylvania
California
RN to BSN -

Department of Nursing
Carlow University
Pittsburgh
RN to BSN -

School of Nursing
Chatham University
Pittsburgh
RN to BSN -

Nursing Department
Clarion University of Pennsylvania
Drexel University
Philadelphia
RN to BSN -

College of Nursing and Health Professions
Duquesne University
Pittsburgh
RN to BSN -

School of Nursing
East Stroudsburg University of Pennsylvania
Eastern University
Saint Davids
RN to BSN -

Department of Nursing
Edinboro University of Pennsylvania
Edinboro
RN to BSN -

Department of Nursing
Gannon University
Erie
RN to BSN -

Villa Maria School of Nursing
Holy Family University
Philadelphia
RN to BSN -

School of Nursing and Allied Health Professions
Immaculata University
Immaculata
RN to BSN -

Division of Nursing
La Salle University
Philadelphia
RN to BSN -

School of Nursing and Health Sciences
Lock Haven University of Pennsylvania
Marywood University
Scranton
RN to BSN -

Department of Nursing
Messiah College
Mechanicsburg
RN to BSN -

Department of Nursing
Misericordia University
Dallas
RN to BSN -

Department of Nursing
Moravian College
RN to BSN -

St. Luke's Hospital School of Nursing
Pennsylvania College of Health Sciences
RN to BSN -

RN-BSN Program
Pennsylvania College of Technology
Pennsylvania State University
Robert Morris University
Moon Township
RN to BSN -

School of Nursing and Health Sciences
Saint Francis University
Loretto
RN to BSN -

Department of Nursing
Temple University
Philadelphia
RN to BSN -

Department of Nursing
Thomas Jefferson University
Philadelphia
RN to BSN -

Jefferson School of Nursing
University of Pennsylvania
Philadelphia
RN to BSN -

School of Nursing
University of Pittsburgh
RN to BSN -

School of Nursing
University of Pittsburgh at Bradford
University of Scranton
Scranton
RN to BSN -

Department of Nursing
Villanova University
Villanova
RN to BSN -

College of Nursing
Waynesburg University
Waynesburg
RN to BSN -

Department of Nursing
Widener University
RN to BSN -

School of Nursing
Wilkes University
Wilkes-Barre
RN to BSN -

School of Nursing
York College of Pennsylvania
RN to BSN -

Department of Nursing