AD
Consider an Online Program Currently Accepting Applicants
New Hampshire BSN in Nursing School Highlights
Schools with RN-BSN Programs
There are 9 nursing schools in New Hampshire with CCNE or ACEN accredited RN to BSN / BSN programs.
Average Enrollment
New Hampshire universities average enrollment is 3,930 students (national average is around 8,000).
City Availability
There are 6 different cities in New Hampshire with nursing schools offering CCNE or ACEN-accredited Bachelor's in Nursing degrees.

AD
Consider an Online Program Currently Accepting Applicants
Over the years, the popularity of this field has only grown. Only in recent years have the requirements for registered nurses changed. In the past, nurses could be accepted by most employers with as little as an associate's degree. However, some employers are beginning to prefer nurses with a bachelor's degree or higher before being accepted into open positions. For existing nurses, the knowledge of employer expectations was devastating. Some nurses may find it difficult to find time to enroll back into college.
9 nursing schools in New Hampshire with CCNE or ACEN accredited BSN programs
RN to BSN programs in New Hampshire are an excellent solution for those Registered Nurses that are in need of options. These programs are designed to fit the schedule of working professionals. Many accredited universities throughout the state of New Hampshire allow students to attend class in person.

New Hampshire Nursing Licensure Reciprocity
The Nurse Licensure Compact (NLC) allows nurses to have one license for nursing that gives them the ability to practice in the state where they current live as well as other states that are part of the compact agreement. Currently there are over 30 states that are a part of the NLC agreement.
As of Spring 2020: New Hampshire is a part of the NLC reciprocity.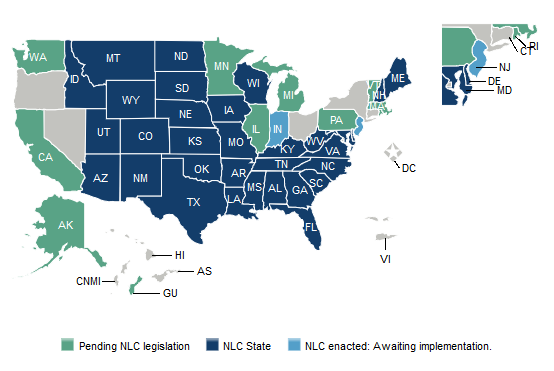 Source: National Council of State Boards of Nursing
The Nursing Profession
The nursing field has always been a leading profession in the United States. Individuals that visit medical facilities rely on nurses to provide them with respectful and professional care.
As a source of employment, it remains a highly chosen path for upcoming students. In response to the growth in popularity, nurses in the field are seeking change to set themselves apart from the rest.
A nurse provides care to patients that are suffering from a variety of different conditions. In medical facilities, nurses have a wide variety of responsibility from paperwork to patient care.
Online RN to BSN Programs
For those professionals that need even more convenience, online programs are even available. There is a program to fit the needs of any busy professional.
RN to BSN programs are what nurses need to pursue a better life without having to make any serious changes to their current way of life.
Nearby States & New Hampshire Nursing Resources
---
List of BSN Programs
All Bachelor of Science in Nursing Programs
Colby-Sawyer College
New London
RN to BSN -

Department of Nursing
Franklin Pierce University
Granite State College
Concord
RN to BSN -

Nursing Department
Keene State College
Keene
RN to BSN -

Department of Nursing
Plymouth State University
Plymouth
RN to BSN -

Department of Nursing
Saint Anselm College
Manchester
RN to BSN -

Department of Nursing
Southern New Hampshire University
Manchester
RN to BSN -

Department of Nursing

RN to BSN
University of New Hampshire
RN to BSN -

Department of Nursing