AD
Consider an Online Program Currently Accepting Applicants
Virginia BSN in Nursing School Highlights
Schools with RN-BSN Programs
There are 21 nursing schools in Virginia with CCNE or ACEN accredited RN to BSN / BSN programs.
Average Enrollment
Virginia universities average enrollment is 10,913 students (national average is around 8,000).
City Availability
There are 16 different cities in Virginia with nursing schools offering CCNE or ACEN-accredited Bachelor's in Nursing degrees.

AD
Consider an Online Program Currently Accepting Applicants
21 nursing schools in Virginia with CCNE or ACEN accredited BSN programs
Professionals in the state of Virginia appreciate the need for college degrees. It is important in the United States to have a degree that will provide professional opportunities throughout a lifetime, and more jobs within healthcare are becoming available to individuals with higher degrees. For nurses in Virginia that are seeking a higher degree, there are a number of university options for finding an advanced degree within the healthcare field, as universities throughout the state of Virginia provide a variety of different RN to BSN programs to fit the needs of any student.

Virginia Nursing Licensure Reciprocity
The Nurse Licensure Compact (NLC) allows nurses to have one license for nursing that gives them the ability to practice in the state where they current live as well as other states that are part of the compact agreement. Currently there are over 30 states that are a part of the NLC agreement.
As of Spring 2020: Virginia IS part of the NLC agreement. This means that the RN licensure in Virginia can transfer to the other states that are a part of the NLC agreement (reciprocity).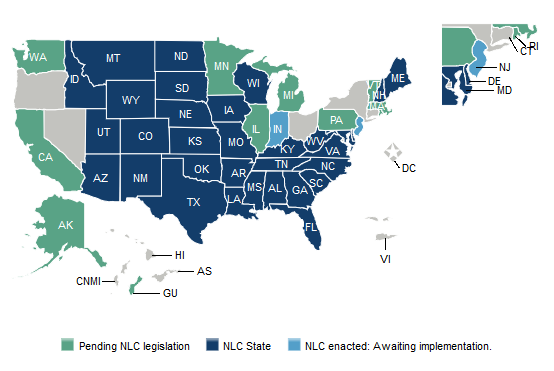 Source: National Council of State Boards of Nursing
Typical BSN Requirements in Virginia
The RN to BSN programs throughout the state accept nurses specifically that are already in the field and most RN-BSN programs in Virginia, if not all, require an RN license.
Within 2 years, associate's level professionals can advance their degrees to bachelor's level, opening up doors for more opportunity in the nursing field.
What Are Employers Looking For in a Nurse?
Employers have changed their requirements for employment over the years. Most positions in nursing require that applicants have at least a bachelor's degree for consideration. Enrolling into an advancement nursing program will ensure that nurses meet the qualifications for years to come.
RN to BSN programs provide flexible scheduling, online and in-person classes, and knowledgeable staff. For those searching for something to set them apart from the crowd and provide a way of life for decades, RN to BSN programs have what they need.
Consider Viewing RN to BSN Programs in Other Areas
Many people decide to commute or move for their education, while many others, especially working adults, enroll in an online program.
There are highly-touted online RN to BSN programs with similar and in many cases the same accreditation qualifications as campus based BSN programs. Feel free to look at all of the Online RN to BSN programs by clicking below, or viewing BSN programs in nearby states to Virginia:
---
List of BSN Programs
All Bachelor of Science in Nursing Programs
Bluefield College
Bluefield
RN to BSN -

School of Nursing
Bon Secours Memorial College of Nursing
Richmond
RN to BSN -

College of Nursing
Eastern Mennonite University
Harrisonburg
RN to BSN -

Department of Nursing
ECPI University - Virginia Beach
George Mason University
Fairfax
RN to BSN -

School of Nursing
Hampton University
Hampton
RN to BSN -

School of Nursing
James Madison University
Harrisonburg
RN to BSN -

Department of Nursing
Jefferson College of Health Sciences
Roanoke
RN to BSN -

Department of Nursing
Liberty University
Lynchburg
RN to BSN -

Department of Nursing
Liberty University Online
Blacksburg
Longwood University
Farmville
RN to BSN -

Department of Nursing
Lynchburg College
Lynchburg
RN to BSN -

Department of Nursing
Marymount University
Arlington
RN to BSN -

Malek School of Health Professions

RN to BSN
Old Dominion University
Norfolk
RN to BSN -

School of Nursing
Radford University
Radford
RN to BSN -

School of Nursing
Sentara College of Health Sciences
Chesapeake
RN to BSN -

Department of Nursing
Shenandoah University
Winchester
RN to BSN -

Eleanor Wade Custer School of Nursing
Stratford University
Fairfax
RN to BSN -

School of Nursing

RN to BSN
University of Virginia
RN to BSN -

School of Nursing
University of Virginia's College at Wise
RN to BSN -

Department of Nursing
Virginia Commonwealth University