AD
Consider an Online Program Currently Accepting Applicants
Colorado BSN in Nursing School Highlights
Schools with RN-BSN Programs
There are 14 nursing schools in Colorado with CCNE or ACEN accredited RN to BSN / BSN programs.
Average Enrollment
Colorado universities average enrollment is 5,504 students (smaller than the national average).
City Availability
There are 11 total cities in Colorado with nursing schools offering CCNE or ACEN-accredited Bachelor's in Nursing degrees, with the largest city, Denver, having the most options in its area and suburbs.

AD
Consider an Online Program Currently Accepting Applicants
There are 14 schools in Colorado in our database that have BSN programs accredited by the Commission on Collegiate Nursing Education (CCNE) or the Accreditation Commission for Education in Nursing (ACEN). The 14 different schools are spread out throughout 11 different Colorado cities.Generally speaking, most programs are located in the larger cities such as Denver or its suburbs, or at campus-based universities. But, there are at least a couple different colleges in Colorado that offer online RN to BSN programs. Colorado Christian University and Colorado Technical University both offer a multitude of online programs.

Colorado Nursing Licensure Reciprocity
The Nurse Licensure Compact (NLC) allows nurses to have one license for nursing that gives them the ability to practice in the state where they current live as well as other states that are part of the compact agreement. Currently there are over 30 states that are a part of the NLC agreement.
As of Spring 2020: Colorado IS a part of the NLC compact agreement, meaning a Colorado license for nursing will be applicable in the other states that participate in the NLC. In the map image below, you can view all of the other states that have the license reciprocity agreement in place.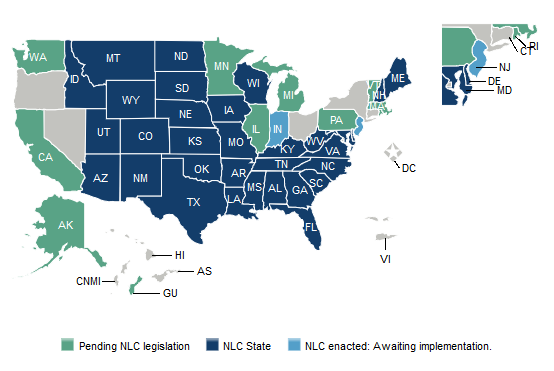 Source: National Council of State Boards of Nursing
The State of Nursing in Colorado
Currently, there are just over 42,000 people employed as a registered nurse in Colorado. That number is expected to grow more than the national average through the year 2022.
Registered Nurses in Colorado make between $50,560 and $93,940 for their annual salary, compared to $45,880-$98,880 as a national average. However, the more 'entry level' RN's in Colorado make about $5,000 more per year than the national average – $50,560 compared to $45,880 nationally.
Colorado's median average is also greater than the national average at $68,290 compared to $66,640. All data is from the US Department of Labor and ONET Online.
Sources:
Why Work in Nursing in Colorado as a BSN?
RN to BSN programs promote a learner's knowledge of nursing from basic to advanced within a short period of time. The need for qualified professionals around the country has grown in recent years, especially with the innovation that technology applies to the medical field.
Having a higher degree allows for nurses to have a choice in the positions that they take. In Colorado, higher level nurses are being sought out by professionals in a variety of different specialties.
Bachelor's level nurses are warmly accepted throughout the state. Hospitals and medical facilities prefer graduates at this level, due to their dedicated to excellence. A higher degree speaks success to employers. The hard work that goes into a degree program provides a reference of hard work on a resume.
The large number of Colorado residents is growing each year. As this number grows, the need for qualified nurses will grow with it. Employers want nurses at the bachelor's level, so obtaining a higher degree is nearly a required step for associate's level nurses.
List of BSN Programs
All Bachelor of Science in Nursing Programs
Adams State University
Alamosa
RN to BSN -

Nursing Department
American Sentinel University
Aurora
RN to BSN -

Nursing Program

RN to BSN
Aspen University
Denver
RN to BSN -

Nursing Department
Colorado Christian University - Online
Grand Junction
Colorado Christian University
Lakewood
RN to BSN -

Division of Nursing and Sciences
Colorado Mesa University
Grand Junction
RN to BSN -

Department of Health Sciences

RN to BSN
Colorado State University - Pueblo
Pueblo
RN to BSN -

Department of Nursing
Colorado Technical University
RN to BSN -

Nursing Department
Denver School of Nursing
Denver
Metropolitan State University of Denver
Denver
RN to BSN -

Department of Nursing
Platt College
Aurora
RN to BSN -

School of Nursing
Regis University
Denver
RN to BSN -

Loretto Heights School of Nursing
University of Colorado
RN to BSN -

College of Nursing
University of Colorado at Colorado Springs
RN to BSN -

Helen and Arthur E. Johnson Beth-El College of Nursing and Health Sciences
University of Northern Colorado
Greeley
RN to BSN -

School of Nursing