In the healthcare field, it is vital that professionals be willing to adjust to the changing requirements and innovations. New diseases are discovered and new treatments are implemented to treat them. Patients in all walks of life are needing care, relying on nurses to help them in their times of need.
Nurses are responsible for accommodating patients while keeping up with the most recent trends in medical science.
The usage of technology has made a profound difference in the way that hospitals and private practices conduct business each day. As technology changes the face of medicine each year, nurses are expected to stay up to date with the recent techniques and ideas that are proposed. The job market can be more welcoming to individuals with higher degrees.

View RN-BSN Programs Accepting Applicants
State Licensure Reciprocity
The Nurse Licensure Compact (NLC) allows nurses to have one license for nursing that gives them the ability to practice in the state where they current live as well as other states that are part of the compact agreement. Currently there are 25 states that are a part of the NLC agreement.
Idaho IS currently a part of the NLC agreement, meaning its licensure can be valid in other states that are part of the NLC agreement
.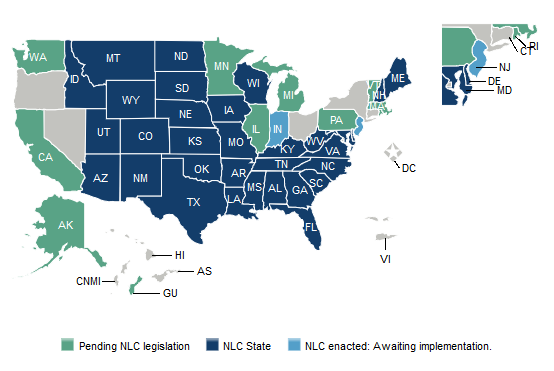 Source: National Council of State Boards of Nursing
---
View RN-BSN Programs Accepting Applicants