Why the BSN?
Nurses currently in the field may feel intimidated by the increase in the number of registered nurses, making a higher degree the best option to prove better qualifications.
A bachelor's degree holder is more often considered for positions in management and other higher tier positions within a healthcare facility. Since the coursework for these programs includes many different aspects of business and employee management, graduates are a great fit for many settings.
Employers want bachelor's degree holders to fill their positions. Bachelor's level graduates work in staff nurse positions as well as in schools and education research facilities.

Without higher education in nursing, it would be difficult to guarantee the excellent patient care in hospitals and private facilities. It does not matter which path a graduate takes upon completing an RN to BSN program.
View RN-BSN Programs Accepting Applicants
Benefits of the BSN in Iowa
In Iowa, there are many benefits associated with obtaining a higher degree. The earning potential for bachelor's level nurses is high, making it a highly popular degree choice. The Bureau of Labor Statistics estimates that nurses in Iowa earn around $67,340 per year.
The Iowa Health System is one of the larger hospital networks in the state and in the Midwest, and there are a number of opportunities at hospitals run by IHS.
State Licensure Reciprocity
The Nurse Licensure Compact (NLC) allows nurses to have one license for nursing that gives them the ability to practice in the state where they current live as well as other states that are part of the compact agreement. Currently there are 25 states that are a part of the NLC agreement.
Iowa IS part of the NLC agreement, meaning licensure earned in Iowa is valid in the other states that are part of the NLC
.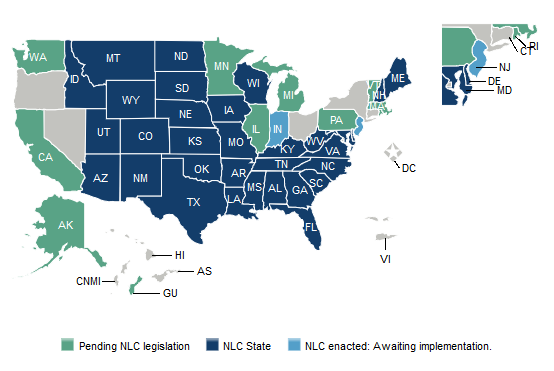 Source: National Council of State Boards of Nursing
---
View RN-BSN Programs Accepting Applicants