BSN for Working RN's in Mississippi
How nurses choose a university is based around what the university provides. Nurses need some leeway when choosing to go back to school. The long hours and abnormal scheduling can make it difficult for nurses to take college courses.
Most individuals within RN to BSN programs have families and other responsibilities outside of their career. RN to BSN programs provide the ability to schedule courses that do not interfere with a normal lifestyle.
Professionals can take courses at any time of day, and sometimes at night. Online courses have some added convenience, without having to sacrifice any quality of education.

More people are looking into this method as a way to promote their degrees easily within 1-2 years.
View RN-BSN Programs Accepting Applicants
Typical RN to BSN Curriculum
Courses are relevant to the field of nursing, with courses in advanced practice and abnormal disease being taken throughout.
RN to BSN programs build on what lower degree programs have already taught. Higher degree programs include courses that apply to the science and application of nursing.
Advanced techniques and nursing application are some of the subjects of focus in these programs.
State Licensure Reciprocity
The Nurse Licensure Compact (NLC) allows nurses to have one license for nursing that gives them the ability to practice in the state where they current live as well as other states that are part of the compact agreement. Currently there are 25 states that are a part of the NLC agreement.
Mississippi IS a part of the NLC compact agreement, meaning a Mississippi license for nursing will be applicable in the other states that participate in the NLC
. In the map image below, you can view all of the other states that have the license reciprocity agreement in place.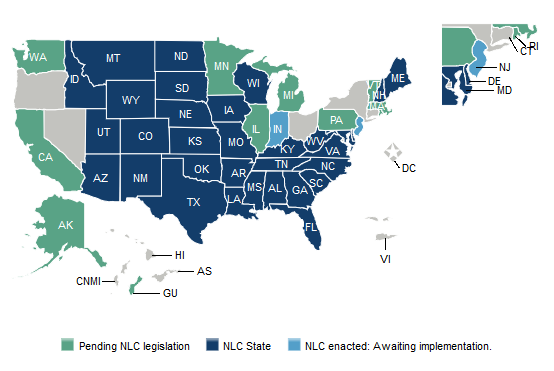 Source: National Council of State Boards of Nursing
---