AD
Consider an Online Program Currently Accepting Applicants
California BSN in Nursing School Highlights
Schools with RN-BSN Programs
There are 41 nursing schools in California with CCNE or ACEN accredited RN to BSN / BSN programs. This ranks California 3rd in the United States for available nursing schools with Bachelor's in Nursing programs.
Average Enrollment
California universities average enrollment is 12,468 students (larger than the national average). There are multiple options, including public universities (the California State University system is among the largest), and smaller, private universities in more remote locations.
City Availability
There are 23 total cities in California with nursing schools offering CCNE or ACEN-accredited Bachelor's in Nursing degrees.

AD
Consider an Online Program Currently Accepting Applicants
Finding Campus-Based and Online RN to BSN Programs in California
California ranks in the top 3 for number of nursing programs, and it is near the top in terms of resources for nurses. Boasting over a dozen nursing associations, alliances, and organizations, the support for being a Registered Nurse in California is excellent. As you would expect, the more highly populated cities and their suburbs have more options: Los Angeles, San Diego, and San Francisco, among others.
41 CCNE or ACEN Accredited California BSN Programs in our database
The general theme of nursing in California is that programs have grown (by around 30% from 2004 to 2014), but still have not been able to accommodate the demand for prospective nurses looking to enroll in a program. Thus, many people looking at getting their RN-BSN
have been considering an online RN to BSN program
if they live in California.

California Nursing Licensure Reciprocity
The Nurse Licensure Compact (NLC) allows nurses to have one license for nursing that gives them the ability to practice in the state where they current live as well as other states that are part of the compact agreement. Currently there are over 30 states that are a part of the NLC agreement.
As of Spring 2020: California is NOT a part of the NLC compact agreement.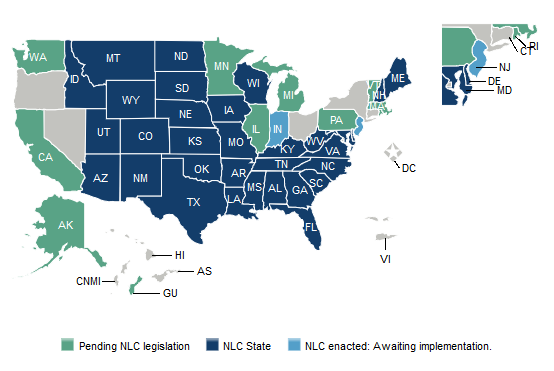 Source: National Council of State Boards of Nursing
Becoming a Nurse in California
One of the best places – if not the best place – to glean perspective on becoming an Registered Nurse in California is to read through the California Board of Registered Nursing 2013-2014 Annual School Report (PDF file), most recently updated in June 2015. The 23-page report is long, but it provides excellent data and trending. We have pulled the most applicable facts that you should know when you are researching RN to BSN programs to become a nurse in California.
There are around 12,300 "spaces" open for nursing programs in CA, but as of the date of the last survey, there were around 13,300 applicants to nursing programs. This puts the university system over capacity, and can make them more selective.
BSN programs had a slight increase in enrollment from 2012 to 2013 (most recent dates).
The overall NCLEX pass rate for BSN's at every California University decreased from 87.1% in 2012/2013 to 82.3% in 2013/2014.
68% of graduates from California BSN programs are employed within the state of California (this is a very good number).
Unsurprisingly, 56% of graduates from California BSN programs work in hospitals, the most out of any industry.
---
The California State University System's Impact on Nursing
The California State University System is by far the most expansive of all California universities, with 23 campuses and eight off-campus centers. The System is home to almost a half-million students (437,000), and has options all over California. The Cal State System is also the largest producer of bachelor's degrees in the United States, with around 100,000 annually.
Nursing Schools Spotlight
Azusa Pacific University
APU's RN-BSN program is one of the most reasonably priced degree programs in the state of California, at around $500 per credit hour. At 40 credit hours total, the RN-BSN program can also be completed in as little as 15 months, which is on the low end of the spectrum in terms of program length. You would need to be aggressive with taking your courses on a full schedule, however. APU also has an Online RN to BSN option.
California State University – Sacramento
The last reported numbers from the California Board of Nursing reports that California State University – Sacramento's BSN program had an NCLEX pass rate of 97%, with 153 students passing in 2013/2014. Nursing is also the largest major at the university for undergraduates, with around 2,000 students in the program.
California Nursing Resources
---
List of BSN Programs
All Bachelor of Science in Nursing Programs
American University of Health Sciences
Signal Hill
RN to BSN -

School of Nursing
Azusa Pacific University
Azusa
RN to BSN -

School of Nursing
Biola University
La Mirada
RN to BSN -

Department of Nursing
Brandman University
Irvine
RN to BSN -

Marybelle and S. Paul Musco School of Nursing and Health Professions
California Baptist University
Riverside
RN to BSN -

School of Nursing
California State University - Bakersfield
California State University - Channel Islands
California State University - East Bay
California State University - Los Angeles
California State University - Northridge
California State University - San Marcos
California State University Chico
RN to BSN -

School of Nursing
California State University Dominguez Hills
RN to BSN -

School of Nursing
California State University Fresno
RN to BSN -

School of Nursing
California State University Fullerton
RN to BSN -

School of Nursing
California State University Long Beach
RN to BSN -

Department of Nursing
California State University Sacramento
RN to BSN -

Division of Nursing
California State University San Bernardino
RN to BSN -

Department of Nursing
California State University Stanislaus
RN to BSN -

School of Nursing
Concordia University Irvine
RN to BSN -

Division of Nursing
Dominican University of California
San Rafael
RN to BSN -

Department of Nursing
Fresno Pacific University
Fresno
Holy Names University
Oakland
RN to BSN -

Department of Nursing
Loma Linda University
Loma Linda
RN to BSN -

School of Nursing
National University
La Jolla
RN to BSN -

Department of Nursing
Pacific College
Costa Mesa
RN to BSN -

Bachelor of Science in Nursing
Pacific Union College
Angwin
RN to BSN -

Department of Nursing
Point Loma Nazarene University
San Diego
RN to BSN -

School of Nursing
Samuel Merritt University
Oakland
RN to BSN -

School of Nursing
San Diego State University
San Diego
RN to BSN -

School of Nursing
San Francisco State University
San Francisco
RN to BSN -

School of Nursing
San Jose State University
San Jose
RN to BSN -

The Valley Foundation School of Nursing
Sonoma State University
Rohnert Park
RN to BSN -

Nursing Department
Southwestern College
Chula Vista
RN to BSN -

RN-BSN Program
Unitek College
Fremont
RN to BSN -

School of Nursing and Allied Health
University of California
RN to BSN -

Program in Nursing Science
University of California Los Angeles
RN to BSN -

School of Nursing
University of San Francisco
San Francisco
RN to BSN -

School of Nursing & Health Professions
Vanguard University of Southern California
Costa Mesa
RN to BSN -

Nursing Program
West Coast University
RN to BSN -

College of Nursing