Typical RN-BSN Program Length in Florida
Accommodating the needs of nurses, Florida offers RN to BSN programs to assist with promoting associate's degrees to bachelor's degrees in less than 2 years.
RN to BSN programs are created with professional/currently working nurses in mind. They are designed to complement a busy working schedule, allowing for flexible scheduling and courses that are relevant to the field of nursing directly. RN to BSN programs can be the solution to every nurse's desire to have a better career from beginning to end.
View RN-BSN Programs Accepting Applicants

---
State Licensure Reciprocity
The Nurse Licensure Compact (NLC) allows nurses to have one license for nursing that gives them the ability to practice in the state where they current live as well as other states that are part of the compact agreement. Currently there are 25 states that are a part of the NLC agreement.
Florida is not currently a part of the NLC agreement
.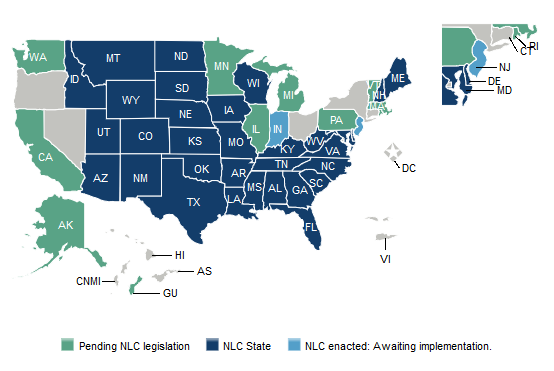 Source: National Council of State Boards of Nursing
---
---
Career Information for Registered Nurses
According to the US Department of Labor's Bureau of Labor Statistics, registered nurses can earn $62,720 per year on average while employed in Florida.
Wages are competitive in the field of nursing, which is a large reason for degree advancement for current nurses. The medical field is a diverse platform that needs nurses in all fields. At a bachelor's level, nurses provide a source of knowledge and leadership to nurses at lower degree levels.
To be considered for management positions, most nurses should have at least a bachelor's degree paired with work experience. The combination of these two factors will provide nurses with what it takes to be successful in their field and be open to promotional availability in the future. For individuals seeking a path that will provide for years to come, RN to BSN programs could be the answer.