AD
Consider an Online Program Currently Accepting Applicants
Florida BSN in Nursing School Highlights
Schools with RN-BSN Programs
There are 41 nursing schools in Florida with CCNE or ACEN accredited RN to BSN / BSN programs, good for the 3rd-most nursing schools for a state in the U.S.! There is a good mix of public universities, state-run universities, and private college options.
Average Enrollment
Florida universities average enrollment is 14,396 students (larger than the national average). Several of the largest universities in the U.S. offer RN-BSN programs, bringing up this average by quite a bit. The University of Florida, University of Central Florida, and University of South Florida all have enrollment numbers over 45,000+ students.
City Availability
There are over a dozen total cities in Florida with nursing schools offering CCNE or ACEN-accredited Bachelor's in Nursing degrees. Colleges range from being situated on the coast(s), to central Florida. Gainesville, Jacksonville, Miami, and Orlando each have more than one distinct universities in their cities.

AD
Consider an Online Program Currently Accepting Applicants
The medical field is one of the fastest growing fields in the country. Technology provides new techniques, changing the way that patients are cared for in a hospital setting. In the state of Florida, the gigantic population relies on large numbers of medical professionals each year to the provide the care that they need. The state of Florida has 18.8 million residents in recent counts.
Typical RN-BSN Program Length in Florida
Accommodating the needs of nurses, Florida offers RN to BSN programs to assist with promoting associate's degrees to bachelor's degrees in less than 2 years. RN to BSN programs are created with professional/currently working nurses in mind. They are designed to complement a busy working schedule, allowing for flexible scheduling and courses that are relevant to the field of nursing directly. RN to BSN programs can be the solution to every nurse's desire to have a better career from beginning to end.

Florida Nursing Licensure Reciprocity
The Nurse Licensure Compact (NLC) allows nurses to have one license for nursing that gives them the ability to practice in the state where they current live as well as other states that are part of the compact agreement. Currently there are over 30 states that are a part of the NLC agreement.
As of Spring 2020: Florida is not currently a part of the NLC agreement.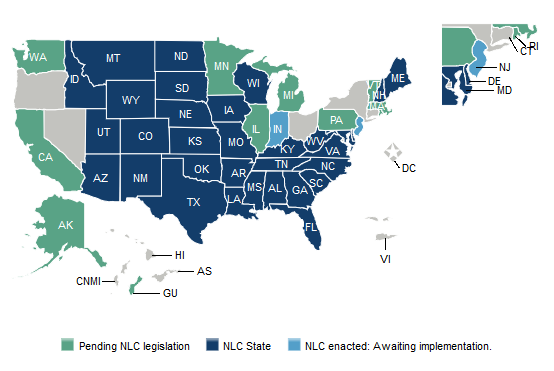 Source: National Council of State Boards of Nursing
Career Information for Registered Nurses in Florida
According to the US Department of Labor's Bureau of Labor Statistics, registered nurses can earn $62,720 per year on average while employed in Florida.
Wages are competitive in the field of nursing, which is a large reason for degree advancement for current nurses. The medical field is a diverse platform that needs nurses in all fields. At a bachelor's level, nurses provide a source of knowledge and leadership to nurses at lower degree levels.
To be considered for management positions, most nurses should have at least a bachelor's degree paired with work experience. The combination of these two factors will provide nurses with what it takes to be successful in their field and be open to promotional availability in the future. For individuals seeking a path that will provide for years to come, RN to BSN programs could be the answer.
List of BSN Programs
All Bachelor of Science in Nursing Programs
Adventist University
Orlando
Adventist University of Health Sciences
Orlando
RN to BSN -

Department of Nursing
Barry University
Miami
RN to BSN -

College of Nursing and Health Sciences
Bethune-Cookman University
Daytona Beach
RN to BSN -

School of Nursing
Chamberlain College of Nursing
Chipola College
RN to BSN -

School of Health Sciences
Daytona State College
RN to BSN -

School of Nursing
Florida Agricultural and Mechanical University
RN to BSN -

School of Nursing
Florida Atlantic University
Boca Raton
RN to BSN -

Christine E. Lynn College of Nursing
Florida Gulf Coast University
Fort Myers
RN to BSN -

School of Nursing
Florida International University
Miami
RN to BSN -

Nicole Wertheim College of Nursing and Health Sciences
Florida National University
RN to BSN -

Nursing Division
Florida Southern College
Lakeland
RN to BSN -

School of Nursing and Health Sciences
Florida Southwestern State College
Florida State College at Jacksonville
RN to BSN -

Nursing Department
Florida State University
Tallahassee
RN to BSN -

College of Nursing
Fortis College
Orange Park
RN to BSN -

School of Nursing
Fortis College-Largo
Largo
RN to BSN -

Nursing Department
Gulf Coast State College
Panama City
RN to BSN -

Nursing Program
Indian River State College
RN to BSN -

Baccalaureate Degree Nursing
Jacksonville University
Jacksonville
RN to BSN -

School of Nursing
Keiser University
RN to BSN -

RN/BSN Program
Miami Dade College
RN to BSN -

Benjamin Leon School of Nursing
Northwest Florida State College
Niceville
RN to BSN -

Department of Nursing and Allied Health
Nova Southeastern University
Fort Lauderdale
RN to BSN -

College of Nursing
Palm Beach Atlantic University
West Palm Beach
RN to BSN -

School of Nursing
Palm Beach State College
RN to BSN -

BSN Post Licensure
Polk State College
RN to BSN -

Department of Nursing
Remington College
Heathrow
RN to BSN -

School of Nursing
Santa Fe College
Gainesville
RN to BSN -

RN to BSN Program
South University
RN to BSN -

College of Nursing
St. John's River State College
RN to BSN -

Bachelor of Science in Nursing Degree
St. Petersburg College
RN to BSN -

College of Nursing
State College of Florida - Manatee - Sarasota
RN to BSN -

Health Professions Division
University of Central Florida
Orlando
RN to BSN -

College of Nursing
University of Florida
Gainesville
RN to BSN -

College of Nursing
University of Miami
Coral Gables
RN to BSN -

School of Nursing and Health Studies
University of North Florida
Jacksonville
RN to BSN -

School of Nursing

RN to BSN
University of South Florida
RN to BSN -

College of Nursing
University of Tampa
RN to BSN -

Department of Nursing
University of West Florida
RN to BSN -

Nursing Program

RN to BSN