AD
Consider an Online Program Currently Accepting Applicants
Washington BSN in Nursing School Highlights
Schools with RN-BSN Programs
There are 13 nursing schools in Washington with CCNE or ACEN accredited BSN programs.
Average Enrollment
Washington universities average enrollment is 9,376 students (national average is around 8,000).
City Availability
There are 10 different cities in Washington with nursing schools offering CCNE or ACEN-accredited Bachelor's in Nursing degrees.

AD
Consider an Online Program Currently Accepting Applicants

Washington Nursing Licensure Reciprocity
The Nurse Licensure Compact (NLC) allows nurses to have one license for nursing that gives them the ability to practice in the state where they current live as well as other states that are part of the compact agreement. Currently there are over 30 states that are a part of the NLC agreement.
As of Spring 2020: Washington is currently pending NLC legislation for implementation.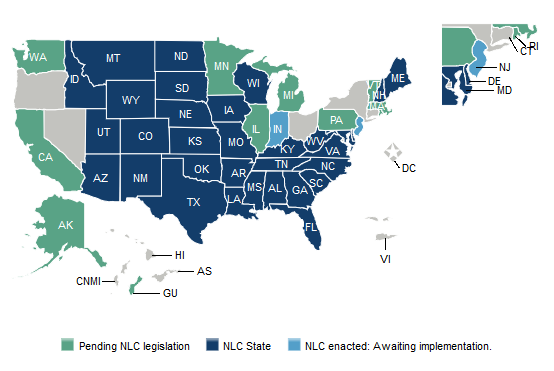 Source: National Council of State Boards of Nursing
List of BSN Programs
All Bachelor of Science in Nursing Programs
Bellevue College
Bellevue
RN to BSN -

Nursing Program
Concordia University Portland
RN to BSN -

Nursing Program
Gonzaga University
Spokane
RN to BSN -

School of Nursing and Human Physiology
Northwest University
Kirkland
RN to BSN -

Mark and Huldah Buntain School of Nursing
Olympic College
Bremerton
RN to BSN -

Nursing Program
Pacific Lutheran University
Tacoma
RN to BSN -

School of Nursing
Saint Martin's University
Lacey
RN to BSN -

Department of Nursing
Seattle Pacific University
Seattle
RN to BSN -

School of Health Sciences
Seattle University
Seattle
RN to BSN -

College of Nursing
University of Washington
RN to BSN -

School of Nursing
Washington State University
Pullman
RN to BSN -

College of Nursing
Western Washington University
Bellingham
RN to BSN -

RN-to-BSN Program