+ Jump to List of RN to BSN Programs
What Does an RN Do in Louisiana?
As the front line support to patients in busy hospitals, nurses are the most important aspect of patient care. Nursing is one of the most traditional fields within the country. They have always been used to care and provide for individuals needing care.
Over the years, the expectations of nurses have changed, making it vital for current nurses to enroll in a degree promotion program. A lot of current nurses only hold an associate's degree or certificates in nursing. These credentials have always been acceptable in the workforce, providing employment opportunities for millions of people each year.

In recent times, however, more students are graduating with higher degrees making it the more preferred choice for employers. With these new graduates in the field, current nurses are considering going back to college to pursue higher degrees. The state of Louisiana provides RN to BSN programs to assist current nurses with advancing their degrees to bachelor's level in 1-2 years.
View RN-BSN Programs Accepting Applicants
State Licensure Reciprocity
The Nurse Licensure Compact (NLC) allows nurses to have one license for nursing that gives them the ability to practice in the state where they current live as well as other states that are part of the compact agreement. Currently there are 25 states that are a part of the NLC agreement.
Louisiana is not part of the NLC agreement
.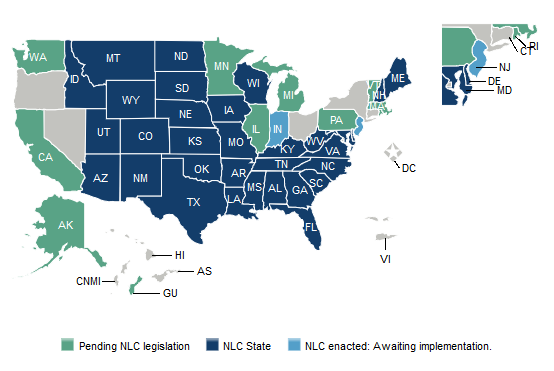 Source: National Council of State Boards of Nursing
---